Paul Green is a synonym of elegance and luxury style. Yet, its shoes are more expensive than other designer shoes. Why are Paul Green shoes so expensive? Are they too overpriced for their quality?
This article will investigate the reasons behind those hefty price tags and exciting stories about this luxury footwear brand.
Why Are Paul Green Shoes So Expensive?
There are various reasons behind the price tags of Paul Green shoes, including production cost, distribution channels, product quality, brand awareness, and more.
They Are Handcrafted Excellently
Unlike mass footwear products, Paul Green shoes are 100% handcrafted by skillful European shoe artisans.
These shoes are made using traditional manufacturing techniques like stitching and molding. These techniques are passed through generations of shoemakers in Europe, ensuring a solid construction with extreme durability and comfort for users.
This true craftsmanship of Paul Green takes more time and labor than modern, automatic techniques. Thus, it makes Paul Green shoes much more expensive than those mass-produced ones.
They Are Made Of Premium Materials
Paul Green has a rich heritage of utilizing top-notch materials in its shoemaking.
While excellent raw materials can cost you more at first, they bring long-term comfort and durability with fewer replacements due to wear and tear. The material cost for a pair of Paul Green shoes can be around $100.
Genuine leather is among the most common materials made of Paul Green shoes. This material has high flexibility and breathability at a higher cost than synthetic ones.
Over time, it is molded to your feet to make a custom fit and unparalleled comfort for you.
Check more: Why Are Crocs So Expensive?
They Are Unique Masterpieces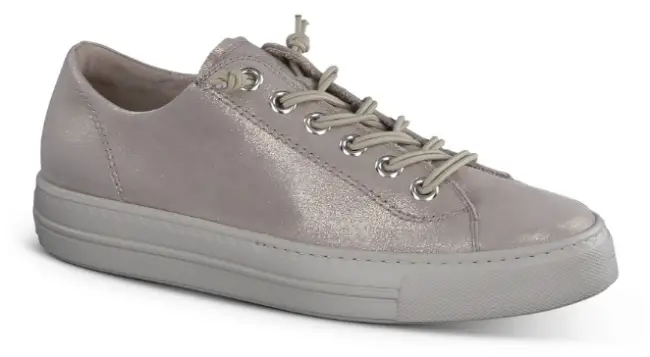 Wearing Paul Greens is like wearing artwork on your foot. Each Paul Green shoe is caught up with the latest fashion trends and has a creative approach to shoe design.
Yet, it is crafted with the clear design philosophy of Paul Green – being trendy yet timeless.
The Paul Green effect is a term born from the high artistry of Paul Green shoes. Their shoes can brighten up your daily outfit.
For this reason, Paul Green shoes go beyond fashion accessories. They are valuable staples in your wardrobe.
They Incorporate Innovative Technology
Behind every Paul Green shoe is a lot of product research and development effort. This designer footwear brand applies the latest technologies to make its shoes comfortable and safe while staying fashionable on the streets.
Shock absorption is among the best technologies of these shoes. It is applied to almost all Paul Green shoe styles.
The shock absorption system comprises special midsole materials, gel inserts, and padding. It absorbs outer forces while being supportive of your every move.
The SuperSoft technology is another highlighted innovation of the hoes. It is applied on the noble leather lining of Paul Green loafers, giving the shoes maximum cushioning while maintaining solid flexibility.
They Are Built To Last
Paul Green shoes are not only for a few special occasions of yours. They can last for years with daily use.
Every Paul Green shoe ensures an excellent performance against the test of time through solid construction and high craftsmanship.
Attention to detail and traditional sewing methods help maintain the shoes' shape and quality for longer than cheaper products.
While using the finest materials can make Paul Greens more pricey, it maintains a great appearance for the shoes with fewer cracks and tears.
The boots' outsoles are made from rubber, a thermoplastic material that provides great traction while firming in harsh weather conditions.
The Brand Reputation Is So Strong
Customers don't only buy shoes.  They believe in a legacy that Paul Green has built for years.
Paul Green has a long heritage of reputation since 1988. From a small workshop in Munich, it is widely renowned globally with a strong commitment to quality, innovation, and customer service.
Until now, Paul Green has been a leading German women's shoe brand.
Beyond its home country – Germany, Paul Green shoes are widely favored in Austria, Japan, and European markets.
Being well-known in the footwear industry for years means it has an excellent establishment for quality and craftsmanship. This rich heritage of Paul Green makes its shoes worth your investment.
They Are A Fashion Icon For Celebs
Paul Green shoes are loved by many fashion icons, social media influencers, models, and celebrities. These shoes widely appear in red carpet events, on paparazzi shots, and in fashion magazines.
You can check the images of celebs wearing Paul Greens by checking Instagram hashtags like #paulgreen or #paulgreenshoes.
They Have Consistently Positive Customer Feedback
Customer feedback is the most realistic confirmation of shoe qualities. Luckily, this luxury footwear brand has many positive feedbacks on online shopping channels.
When searching for feedback, you can see various customers' testimonials sharing their experience with Paul Greens. Some highlighted words for these shoes are extreme comfort, durability, style, etc.
This consistent praise is a testament to Paul Green's promise of product quality and customer service. Thus, buying these shoes is worth your every penny!
Paul Green Shoes Come With Limited Production
Paul Green shoes are handcrafted in small quantities to maintain their top-notch quality. Due to their limited production, some styles and sizes can sell out quickly.
Thus, it's reasonable that they are more expensive than mass-produced ones.
Get Paul Greens on their sales events and use discount vouchers via its affiliate partners to save more.
They Are Exclusively Distributed
There are only two ways to get Paul Green shoes – via some retailers or on its official website.
This exclusive distribution strategy allows Paul Green to better control its brand image. Yet, it also creates scarcity around the shoes, making them too expensive for the public.
By limiting its distribution channels, Paul Green can lower its production cost while maintaining its premium price for its shoes. Furthermore, it can have a better pricing control of its product.
This strategy also allows the German footwear brand to manage its supply chain and maintain premium quality standards on all its products.
So, Are Paul Green Shoes Worth The Price?
In a nutshell, Paul Green shoes are expensive due to some factors – material quality, brand reputation, high craftsmanship, traditional production, innovations, exclusive distribution, and more.
Get Paul Greens if the budget isn't a problem for you. They're worth the money!