Vans shoes have become a global sensation, with 80 million pairs sold annually. There is a common concern, where are Vans shoes made?
Despite their immense popularity, many fans may be confused about this fact. Let's delve into the origin and manufacturing process of this world's favorite athletic footwear.
Where Are The First Vans Shoes Made?
Vans's first shoes were made in Anaheim, California, where the company also located its headquarters (Costa Mesa).
Vans' early designs were identified through numbering. The first shoe sold was the Vans 44 Deck DX, now recognized as Authentic.
This was followed by the #95 (the Era), the #36 (the Vans Old Skool), and the #98 (aka Vans slip-ons), a unique design for BMX riders.
These original Vans shoes are still circulating, maintaining their iconic status within the brand.
First Vans Store (1966)
Vans's first store was founded in Anaheim, California, on March 16, 1966. The company expanded to a total of 10 stores within a few months.
Despite initial challenges, with 5 out of 10 stores not turning a profit, Vans persevered and continued to open more stores, averaging one new location each week in 1967.
By the 1970s, there were 70 successful Vans stores across California.
Vans has remained true to its roots since its inception. All these Vans custom shoes were made in California for approximately three decades.
When industry trends saw other shoe companies shifting their production to the Far East, Vans held firm.
The colossal 176,000-square-foot factory in Orange, California, exemplified the company's commitment to local manufacturing, further cementing its legacy as a genuinely all-American brand.
In 1995, Vans shut down its production facility in Orange, California, but continued operations at their 90,000 square feet plant established in 1992 in Vista, California.
However, a significant change occurred in August 1998 when they declared this final manufacturing facility shutdown.
The availability of less expensive skilled labor and the convenience of shorter supply chains in Asian countries were compelling reasons for moving the production outside the USA.
Check more: Vans Authentic vs Era: Which Should You Buy?
Where Are Vans Shoes Made Now?
98% of Vans shoes retailing in the USA are sourced abroad, predominantly in countries such as China, Vietnam, Cambodia, and Indonesia. A mere 2% is domestically manufactured from a few designed models.
The production of Vans shoes was handled by Californian factories over three decades before being shifted to China and other Asian countries in the late 1990s.
Although China retains its status as the leading producer, a noticeable production shift is influenced partially by the US-China tariff war and cost variables.
In the future, more shoes will be made in other countries, particularly Vietnam.
While Vans shoes are made globally, buyers will always be privy to their country of origin due to the USA and EU's mandatory labeling regulations.
These rules necessitate that brands disclose the origin country on their product labels.
China
Vans operates its largest production facility in China – the hub for most of its shoe production. Around 95% of shoes available in the USA are manufactured in China.
Chinese factories have diverse products, from traditional skate shoes to contemporary, fashion-focused designs.
China was the favored manufacturing locale for many brands because of its inexpensive labor and materials coupled with an efficient and skilled labor force.
The Chinese leather industry has evolved significantly, producing and exporting high-quality leather goods worldwide.
The location was strategically selected due to its proximity to Vietnam and Indonesia, where materials are sourced. It simplifies the transport of raw materials, keeping the costs down.
However, recent shifts have seen changes. Increasing labor and raw material costs have made China less economically viable for production than in previous years.
Additionally, the tariff war between the USA and China has spurred many American fashion labels to move their manufacturing operations to alternative countries, with Vietnam being a key contender.
Check more: Where Are Ryka Shoes Made?
Vietnam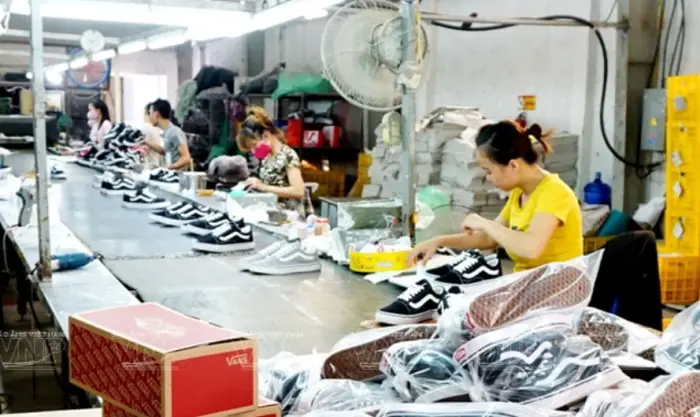 Many Vans' commodities, including footwear, clothing, and selected accessories, are made in Vietnam.
There is a shift in Vans' production strategy, focusing on their Vietnam manufacturing plant, known for producing some of the most cost-effective shoes in their range.
This facility shines in the fabrication of quintessential styles, including the emblematic slip-on and the time-honored Old Skool sneaker.
The reasons for this move from China to Vietnam extend beyond the tariff tensions between the US and China. Vietnam is fast earning a reputation as a leading global manufacturer of fashion brands.
The allure of Vietnam lies not just in its lower labor costs and material expenses but in the skill level of its workforce as well.
This relocation is logical, with fashion brands perpetually searching for profit enhancement.
Cambodia
Vans moved a portion of its product line to Cambodia. It's not unusual to spot the acronym 'CLK' on Vans items, pointing to their Cambodian origin.
Indonesia
Vans boasts a production hub in Indonesia, renowned for crafting sneakers with distinctive aesthetics, including the sought-after checkerboard styles and renowned Van Doren prints.
However, the country's sole official distributor of Vans shoes fell into bankruptcy and closed its doors. The local production has also ended.
Other Countries
Aside from their primary production locations, Vans also operates minor manufacturing units in India, Mexico, and Brazil.
These locations are tasked with creating an expansive variety of styles and patterns, ranging from traditional skate-type footwear to trendsetting, fashion-centric designs.
Why Are Vans Shoes No Longer Made In The USA?
Vans experienced a leadership shift in 1976 when Paul Van Doren retired, and his brother, James, took over.
This initiated a period of growth for Vans as it expanded into various sports, including football, basketball, soccer, baseball, boxing, and skydiving. The brand also undertook many changes in its manufacturing.
Vans faced a significant labor problem in 1984. The company was raided by immigration officials and found to be employing illegal immigrants, resulting in a hefty fine and the arrest of 150 workers.
Counterfeit products and mounting competition severely impacted Vans' financial stability.
The company responded by diversifying its product line and reducing prices, which led to bankruptcy in 1984. Control of the company was subsequently returned to Paul Van Doren.
With seasoned leadership, once again, Vans staged a remarkable recovery.
By the early '90s, the demand for Vans shoes consistently outstripped supply, necessitating the production to increase.
Despite reservations, Vans began manufacturing shoes outside the US in 1993, with the first overseas production in South Korea. The move was logical for Vans, given its labor issues and union disputes.
With cheaper skilled labor, shorter supply chains, and the potential for lower production costs without compromising quality, the shift to overseas production was an inevitable step in Vans's story.
Nowadays, there are few models with the "designed in California" label, like Style 113 Pro -USA ArcAd, of which only 700 pairs were produced. These exclusive shoes are typically reserved for specific loyal customers, making it quite challenging to secure a pair.
Ceasing its American production was also a part of Vans's transition from a manufacturing enterprise to a marketing-focused organization.
However, their deep-seated American origin remains intact, continuing to be a prominent facet of their brand identity. The company has strongly emphasized marketing with different campaigns and activities in the country.
Who Owns Vans?
With VF Corporation at the helm, Vans has become a global entity. The acquisition, which took place in 2004 and cost $396 million, also came with stock options.
As a result, Vans' products, under VF Corporation's guidance, are now produced across various countries.
How Are Vans Shoes Made?
The vulcanization occurs in the rubber room, where the famous waffle sole of each sneaker is born. In this stage, rubber undergoes curing via heat exposure before compression.
The subsequent phase involves punching holes in the compressed rubber to create shoe soles.
Next, the soles are molded into a criss-cross pattern, giving life to the iconic waffle sole.
The shoes then proceed to the assembly room. Here, the shoes' upper portion and detailed design elements are chosen and affixed.
Most of the shoe's aesthetics are formed during this phase by wrapping a stitched canvas or suede panel tightly around a mold, creating a robust upper.
Detailed designs are then added. Three rubber strips, known as 'foxing,' are overlaid on the upper and sole. Subsequently, the surplus rubber outsole is trimmed, and the Vans logo is positioned at the heel.
Lastly, the shoes are lacquered and then placed in the vulcanizing oven. This is where the perfect blend of heat, pressure, and humidity conditions solidifies the shoe to wrap up its assembly.
Final Words
Vans originally started making its first iconic shoes in the USA. However, approximately 98% of Vans shoes are manufactured in Vietnam and China, with a small fraction produced in Cambodia and Indonesia.
Only a few models are made in their homeland, California, USA. Vans's catalog boasts over 60 footwear varieties. Vans also offers an array of footwear for children and toddlers.