KEEN is among the few footwear brands to expand its production during the COVID-19 pandemic. In July 2021, it opened its first 15,000-square-foot factory in the Dominican Republic.
Aside from the Dominican Republic, where are KEEN shoes made? Are they also made in China and Vietnam like its rivals?
Let's investigate the origin of KEEN shoes to learn how KEEN can manage its complex global supply chain, especially in the most chaotic time of the world.
Keen Shoe Overview
Keen (or KEEN) is an American footwear company headquartered in Portland, Oregon. The story of KEEN is dated in 2003 in Alameda, California, by Martin Keen and Rory Fuerst.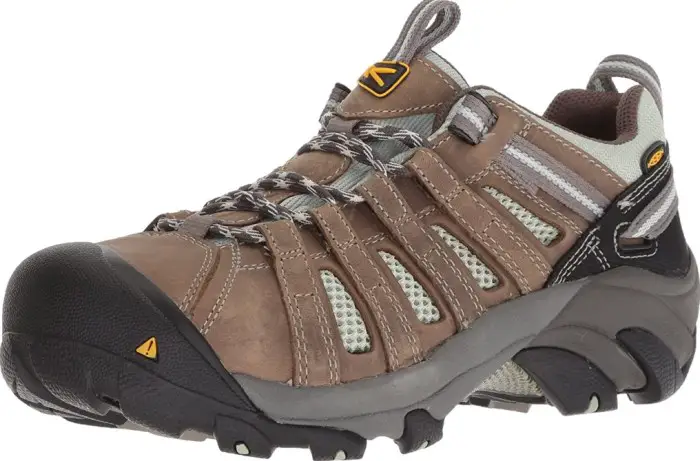 KEEN moved its headquarters from Alameda to Portland in 2006.
Before its establishment, KEEN made its first footwear products – the iconic Newport Sandals. These sandals were released in 1999 before officially establishing it as a footwear company in Jamestown, Rhode Island.
After the Newport, KEEN approached the public in the outdoor niches (sailing and water activities). The first official KEEN shoes and sandals were introduced with a protective black-toe bumper.
From that niche, KEEN expanded its reach to outdoor and lifestyle shoes, then to casual, cold, and safety footwear products.
Nowadays, KEEN footwear products are widely spread globally in more than 85 countries on 4 continents – North and South America, Europe, Asia Pacific, and Africa.
Until 2011, KEEN reached an impressive annual sales volume of $240 million.
Where Are Keen Shoes Made?
KEEN shoes are made locally in the United States and globally in 9 countries like China, Vietnam, the Dominican Republic, etc.
31% of KEEN shoes are made in its 4 owned factories in Portland (United States), Chon Bun and Phimai (Thailand), and Santiago (Dominican Republic).
The remaining ones are made in over 21 contracted factories globally. According to some reports, KEEN outsourced its shoe uppers mainly in Asian countries like India, China, Thailand, and Vietnam.
Some specific components of KEEN shoes are assembled in the United States, Rhode Island, and Canada.
United States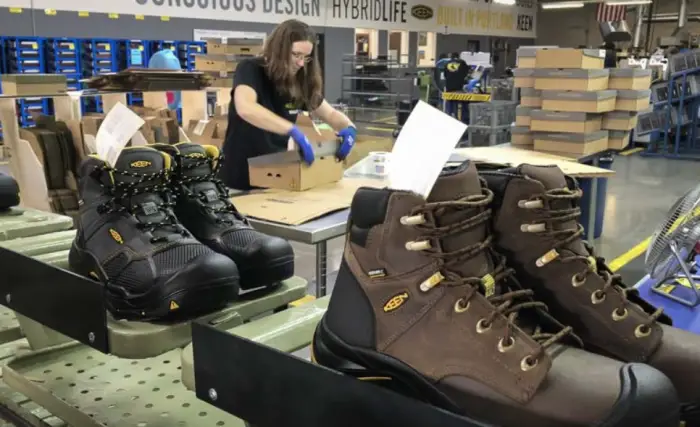 America is the home country of KEEN and also where it made its first shoes. 25% of KEEN shoes are made in the USA nowadays. These shoes are listed in the "American Built" collection on KEEN's official website.
Or, you can recognize a pair of US-made KEEN when looking for the phrase on the shoe tag, "Assembled with pride in Portland, Oregon, using the finest materials from around the world."
KEEN started making shoes in America in 2010.
Until now, 500 employees have been working in a 5-story manufacturing plant of KEEN in this country. Some of them are the most talented shoe artisans in the industry.
While being complained about as a crazy idea initially, KEEN proudly made shoes that are made in the USA for the global market.
The largest factory of KEEN in the US is in North Portland, Oregon. It has a total space of 15,000 square feet and has been here for over 8 years. This factory can make 2 pairs of shoes per minute and 1.5 million pairs annually.
To achieve this goal, the Portland factory has two full-function production lines to maximize its shoemaking performance. Plus, it applies the direct-inject process to waste fewer materials, adhesives, and logistics.
While shoemaking is handled in the U.S., KEEN imports high-quality materials globally.
US-made KEEN shoes are distributed in the U.S. market. However, due to high demand, KEEN still has to outsource its manufacturing outside.
There are 20 released American Built styles for men, women, and kids. Below are some of the most popular US-made KEEN shoes in this collection:
For men: Targhee 2 Mid-Height Hiking, Targhee 3 Low-Height, Independence.
For women: Targhee 3 Mid-Height Waterproof shoes, Targhee 3 Low-Height, Dover.
Check more: Where Are Converse Shoes Made?
China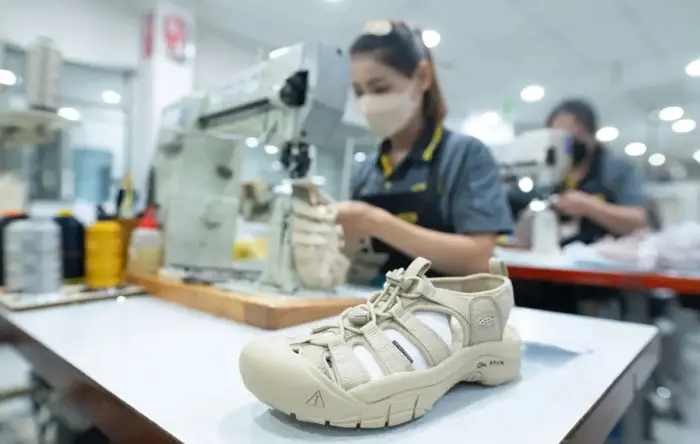 China is one of the widely well-known footwear giants, and KEEN is no exception.
There are some reasons why KEEN chose China as one of its outsourcing places, including the fast growth of the leather industry, low labor cost, and skillful workers with experience in the field.
Dominican Republic
KEEN entered the Dominican Republic during the COVID-19 pandemic in  July 2021. KEEN Dominican Republic (KDR) is the first and only owned KEEN factory in this country.
The KDR factory is located in Santiago, the second-largest city in the  Dominican Republic.
Starting with the iconic Newport H2 sandal, this 55,000-square feet factory produced 500,000 pairs of shoes in early 2021 and aimed to create 2 million pairs of sandals by the end of this year.
This new factory collaborated virtually with the international manufacturing teams of KEEN on 3 continents.
The KDR factory is part of the Detox the Planet initiative of KEEN, meaning that it will follow KEEN's Restricted Substances List (RSL).
All footwear products are produced sustainably with minimal environmental footprints and contain no PFC, antimicrobials, pesticides, or biocides.
Other Countries
KEEN has also expanded its global supply chain to countries like Vietnam, Thailand, Cambodia, Mexico, India, and Canada.
Check more: Where Are Puma Shoes Made?
Who Owns Keen Footwear?
Rory Fuerst, one of the two founders of KEEN, is the current CEO and president of the KEEN footwear company.
In 2010, co-founder Martin Keen sold his share of KEEN Footwear to Rory Fuerst and left this shoe business to his passion for office furniture. He has built an empire from a simple idea to a 300-million-footwear giant.
On July 8, 2013, KEEN appointed Mike Abbott, former COO of Specialized Bicycles & COO and CFO of Burton Snowboards, as President of KEEN in Portland. Yet, Mike left the firm after one month of working here.
How Keen Shoes Are Made?
KEEN boots are designed for all your outdoor activities. You can use them for a short walk in the city, for your water work, mountain hiking, gardening work, etc.
Premium recycled materials
All KEENs are made of premium recycled materials, contain no PFC, and last long. The shoe production is eco-friendly with Cleansport NXT – a natural odor control solution.
This responsible manufacturing of KEEN has raised awareness and brought positive impacts to the fashion industry, especially footwear.
Latest technologies
KEEN applies the latest technologies to its shoes.
For example, KeenDry is the exclusive waterproofing technology applied on most KEEN shoes. This membrane prevents water from reaching the shoes' inners and keeps them breathable.
Furthermore, the outsoles provide excellent traction and grip on wet, slippery, and uneven terrains.
The American spirit of KEENs is how they are made.
The shoe's upper and the sole are assembled firmly using a polyurethane-injection procedure that results in a quick-hardening concoction.
The polyurethane, outsourced from a U.S. contracted supplier, is more durable and cushioned yet lighter than traditional polyurethane.
Offer different arch height
KEEN is amongst a few footwear brands offering shoes in different arch heights. Its shoes have a metatomical footbed in 3 heights – low, medium, and high arch.
Despite the footbed's weight, it is strongly recommended for its ultimate support and durability.
The Keen Effect
KEEN shoes are also made for good purposes.
The term "the KEEN Effect," mentions that every sale contributes to various non-profit organizations worldwide with the same core values as KEEN.
The Conservation Alliance and Leave No Trace are two noticeable ones.
Social contribution
Not being a footwear manufacturer, KEEN has made many positive contributions to society and the environment.
KEEN donated $1 million to the Tsunami devastation in the Indian Ocean in 2004. It's great to know you use shoes from a sustainable brand like KEEN.
FAQs
1. Where Are KEEN Hiking Shoes Made?
Most KEEN hiking shoes are made in owned and contracted factories worldwide. KEEN Durand II is the only KEEN hiking shoe made in the USA.
2. Where Are KEEN Cincinnati Boots Made?
KEEN Cincinnati work boots are made in the USA. These 6-inch waterproof boots are a classic choice for all-day working with KEEN.DRY membrane, lightweight carbon-fiber toes.
These boots comply with safety working standards, including ASTM, CSA, EH, and ESR. These boots are available in men's and women's versions.
3. Where Are KEEN San Jose Boots Made?
KEEN San Jose boots are made in the USA. These 6-inch waterproof boots are in the "American Built" collection and feature aluminum safety toes that are 35% less heavy than steel ones.
These work boots are available in men's and women's versions.
Final Words
Beyond its manufacturing plants in its home country, Oregon, United States, KEEN shoes are manufactured globally in 10 countries, including China, Vietnam, Thailand, Mexico, Cambodia, India, the Dominican Republic, Rhode Island, and Canada.
You can buy KEEN shoes in any of its 22 online retailers or 33 trusted dealers globally.