For sports addicts with foot problems, a well-supported pair of shoes is the foundation. It helps you maximize your performance while protecting you from pains and injuries. Between Kuru vs Hoka, which shoe brand is better for your training preferences? Is Kuru better than Hoka?
The following detailed comparison of these two well-known shoe brands will help you detect which one is for your training preference.
Kuru vs Hoka: Brand Overview
Kuru shoe brand

Kuru (or Kuru Footwear) is a shoe brand for people with various foot problems. This shoe brand was founded in 2008 by Bret Rasmussen. Designed in the USA and manufactured in some partner factories in Asia, Kuru shoes are marketed as the most comfortable shoes that relieve pain and free yourself from foot pain.
Kuru provides a wide range of products for many activity types, styles, categories, features, careers, and pain types. Thus, you can choose a pair of shoes depending on the time spent on movement and whether you often move or stand. Besides, Kuru offers a 45-day free return and exchange for all products as a compromise for its top-notch quality.
Hoka shoe brand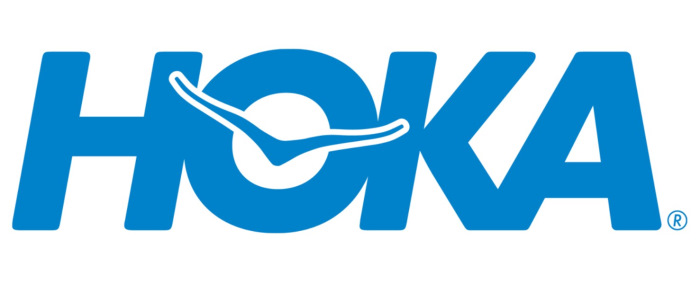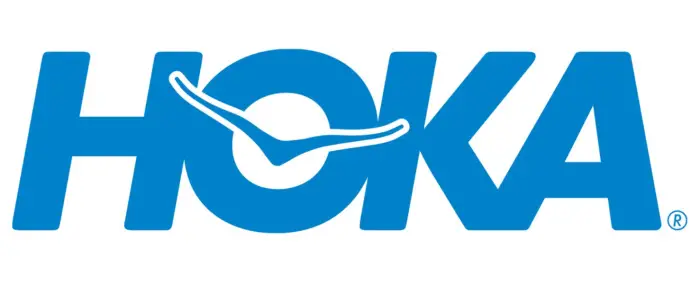 Hoka (or Hoka One One) is a French shoe brand specializing in running shoes. This shoe brand was founded in 2009 by two Salomon employees – Nicolas Mermoud and Jean-Luc Diard. HOKA focuses on providing shoes for all terrains like roads, trails, and all-terrain.
First embraced by ultra-marathon runners for their super soft cushioning and extra stability, Hoka became a holy grail in the worldwide running community for its superior support and minimum weight.
In 2013, Hoka became a member of Decker Brands, the family brand that owns UGG, Teva, and other shoe brands. Besides, HOKA is also a long-term sponsor for professional groups like Northern Arizona Elite and the Aggies Running Club (California) and the former sponsor of the New Jersey New York Track Club.
Kuru vs Hoka: Product Comparison
So, Hoka One One vs Kuru – which is better for people with foot problems? Let's look at the following criteria to get a gland on these two popular shoe brands.
Kuru shoes
Hoka shoes
Breathability
Breathable mesh upper with the rubber eyestay help reinforces air circulation.
One-piece mesh upper to dry sweat.
Arch support

Three-layer feet support system.
The sole hugs around the heel's fat pad.

Soft foam in the midsole.
Meta-rocker geometry shape.

Fitting
True to size.
True to size.
Weight
A bit heavier.
Lighter.
Price
More affordable.
A bit more expensive.
Durability
Insole seems to wear out more quickly.
More durable.
Breathability
This is the first and foremost criterion you should notice when picking up shoes for sports or outdoor activities. It affects your overall performance and your comfort, especially in hot weather.
Both Kuru and Hoka feature excellent breathability design, making them ideal choices for everyday walking, intensive training, or long-distance running.
The Kuru Atom has a breathable mesh upper with the rubber eyestay on the sidewall. This upper design reinforces air circulation while protecting your feet from accidents or injuries. On the other hand, the Hoka Clifton 8 offers a one-piece mesh upper to dry sweat and avoid mold buildup.
Foot/Arch support
Professional athletes prefer Hoka to Kuru shoes for arch support. In other words, Hoka is the first in mind for people suffering from plantar fasciitis, fallen arches, flat feet, etc.
What differentiates Kuru from its competitors is the Kurusole technology which is a three-layer feet support system of Kuru insole, ultimate sole, and Kurucloud.
While many athletic and orthopedic shoes on the market have flat soles, the Kurusole hugs around your heel's fat pad. This special sole shape acts as a foam cup to lessen the impact on heels and help you guide your body's movements for a healthy posture. The Kurusole coordinates with the Kurucloud midsole for your all-day comfort.
While Kuru barely focuses on the heels, Hoka provides complete foot support and body movement boost. The Profly midsole of Hoka shoes, which was first introduced in the Tracer and Clayton series in 2016, offers maximum arch support.
This dual-density cushioning midsole consists of soft foam in the heel and solid foam in the toe/forefoot area. This soft foam absorbs shock, while a firm sole provides added stability.
Furthermore, the meta-rocker geometry shape of the Hoka midsole assists your body's movements forward. With this exclusive ingredient, Hoka is undeniably a top-notch choice for hill run workouts or in the harshest terrains.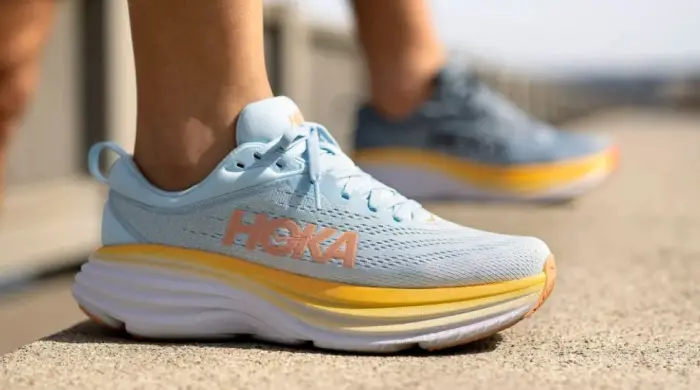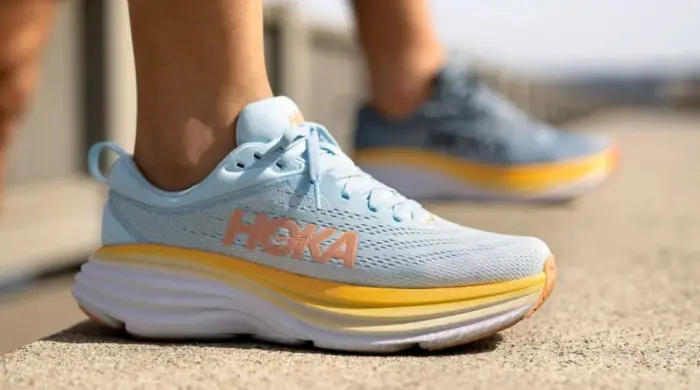 Sizing/Fitting
Most Kuru shoes are true to size, while some are ½ size larger or ½ size smaller. They have a wide toe box for added comfort and don't stretch over time. They seem relatively snug at first wear but will contour to your foot's shape with time.
Hoka shoes are also true to size and have a wide fitting. Since your feet can expand and swell while running, you should choose a pair that is ½ extra wide to have enough room for your feet and avoid lost toenails and blisters.
There are three golden tips to picking up the perfect shoe size.
First, ensure to place your thumb between your longest toe and your shoe's end.
Second, leave enough space for the toe box so that your toe can expand but your nails can't touch the inside surface.
Third, your heels should be kept firmly to avoid sliding up and down and blisters.
Weight
Weight is the apparent difference between Kuru and Hoka shoes. In this area, Hoka shoes are lighter than Kuru shoes. For instance, Hoka Clifton weighs only 234 grams, while Kuru Atom weighs 346 grams.
The choice between Kuru vs Hoka shoes depends on many criteria, including the type of run, foot pain, body weight, arch type, and your preference. For example, if you are about to join a race, you should go for a lightweight pair of Hoka shoes. Carrying less weight on your feet can expend less energy and help you enhance your form and biomechanics.
But if you want to use your shoes for heavy lifting or long-distance running, a heavy pair of Kuru shoes is preferable, since it offers better cushioning and support.
Pricing
Kuru shoes are more affordable and are offered for many occasions (which are the two main reasons for their popularity!). But as a recommendation from professional trainers, Hoka shoes are worth your investment in the long run. They are more durable and maintain their good shape for a long period.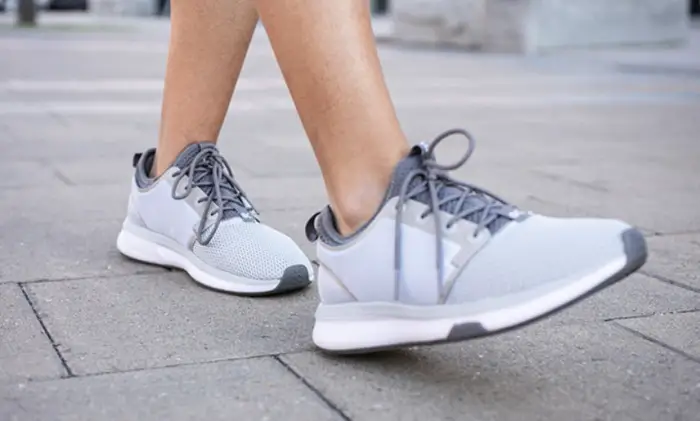 Durability
Hoka is more expensive but more durable than Kuru shoes. Some runners complain that the insole of Kuru shoes wears out quickly. And since Kuru shoes are wide fitting, you need to tie the laces tight to keep your feet in one place while moving.
Is Kuru or Hoka Better For Foot Support?
Both of them earn a lot of reputation in sports communities. Nearly everyone, especially those suffering from common foot problems, can benefit from a pair of Hoka or Kuru shoes.
Although Hoka shoes are more expensive than Kuru ones, they provide overall protection for your feet from toe to heel. That's why they are often prescribed for post-op patients. The shoes provide overall comfort during their rehab phase, allowing them to recover quicker.
Moreover, if you are joining a race, a lightweight pair of Hoka shoes can result in less impact, less tiredness, and faster recovery than Kuru shoes.
FAQs
1. Can Kuru shoes cure plantar fasciitis?
No, they can't. Kuru shoes only treat the symptoms but don't address the underlying causes of plantar fasciitis. Plantar fasciitis relates to the malfunction of the tibialis posterior muscle, which is placed behind your shin bone.
Thus, to treat plantar fasciitis, you need to practice your tibialis posterior muscle by walking barefoot, wearing shoes with a wide toe box, not stretching your calves, etc.
2. Are Kuru shoes recommended for runners?
Kuru shoes are a great choice for runners. Their orthotic footbed wraps around your foot for a natural, on-foot feel. Thanks to this bespoke sole design, you can be more confident joining races or doing daily running/training exercises.
You should pick up shoes that are ½ extra wide since your feet tend to expand while running.
3. Are Kuru shoes worth the money?
Kuru shoes are worth your investment if you are looking for high-quality, orthopedic shoes. Thanks to the clear interface of Kuru's website, you can find an item that best matches your pain, category, gender, career, training conditions, etc.
It is also happy to know that Kuru has a community program called Kuru Cares. Hence, purchasing a pair of Kuru shoes also means that you donate a portion of the money to multiple charities. You know that you can get a new pair of shoes for a good cause!
4. Which foot types are Hoka shoes good for?
Hoka shoes are ideal for people with foot problems, like plantar fasciitis, shin splints, bad backs, iliotibial band syndrome, Achilles Tendonitis, flat feet, bad ankles, ball-of-foot pain, Metatarsalgia, etc.
Final Words
In sum, after comparing Kuru shoes vs Hoka shoes, we know that both these two brands are great at supporting, maintaining your healthy posture, and helping you recover from foot problems.
If you need a lightweight pair of shoes for high-speed running, Hoka is worth your investment. But if you only need an affordable pair of training shoes for daily outdoor activities, Kuru shoes won't disappoint you.