With nearly 200 years of experience in shoemaking, Johnston & Murphy has earned a reputation among shoe lovers worldwide. This brand has also been proudly chosen as the footwear brand for US presidents since 1850.
Yet, where are Johnston and Murphy shoes made? Are these mid-range shoes made in the USA or somewhere in Asia?
Let's discover the origin of these shoes and also the myths of why these shoes are favored so much.
Where Are Johnston And Murphy Shoes Made?
Johnston & Murphy (J&M) shoes are made in its home country – the United States – and globally in Italy, China, India, etc. You can check the origin of your J&M items on the brand's official website.
United States
J&M made its first footwear products in its home country of America, from 1850 to 2017. The first shoes of J&M were made in Newark, New Jersey, under the supervision of the William J. Dudley Shoe Company.
From 1850 to 1875, this brand's factory was relocated several times within Newark as part of its expansion plan.
First, it relocated to a three-story house on Market Street, near Lawrence Street, near Pennsylvania Station. Then, it moved to a new location on Lincoln Street, in the Springfield Belmont Section, between Court and Mercer Streets.
This second factory expanded twice as of 1925.
After Genesco Inc. acquired J&M in 1951, the US factory of J&M moved from Newark to Nashville, Tennessee. It also chose this location as the placement for its headquarters from that time until 2017.
For over 150 years of continuous development, J&M was among America's most renowned footwear brands, with Crown Aristocraft as one of its highlighted lines.
J&M was also proudly in charge of making shoes for every US president from 1850, beginning with President Fillmore.
Beyond ready-made footwear, J&M offers shoe refurbishment and a "Custom Select" shoe service based on customers' preferences. These two services are the difference between J&M shoes that are "made in the USA" versus those made in other parts of the world.
When owning a pair of J&Ms from America, you can always get it customized, refurbished, and cared for with excellent service.
J&M stopped making shoes in the US in 2017 to expand its reach to the global footwear market. Till now, only some fashion accessories are made in this country.
Some people still prefer the old J&M products made in the US during the 1800s-1900s period. However, thanks to its strict quality control, shoes made in the US have equal quality and durability compared to those made in other parts of the world.
Italy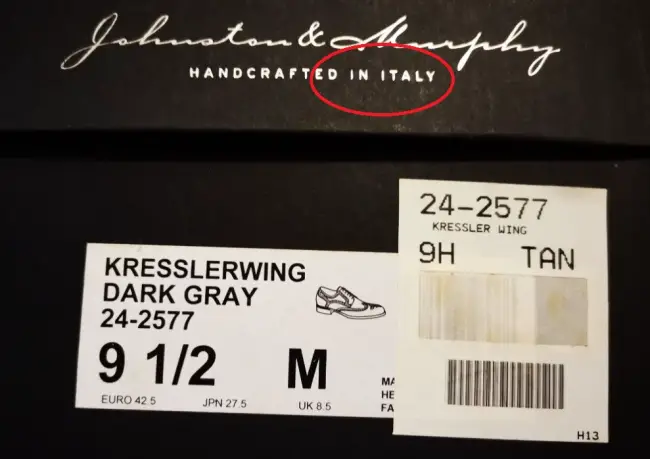 Apart from America, J&M footwear products are also made in Italy – the nation of fashion and leather shoemaking.
Italy has highly skilled shoe artisans and raw materials (mainly leather) for assembling high-quality shoes. J&M shoes made in Italy or other countries have leather imported from reliable Italian tanneries.
Some shoe lines made in Italy include:
Flynch: Flynch Bit, Flynn Plain Toe.
Jameson: Jameson Venetian, Jameson Penny, Jameson Longwing.
Ellsworth: Ellsworth Chukka, Ellsworth Chelsea Boot.
Hartley: Hartley Laceless Cap Toe, Hartley Plain Toe.
Check more: Where Are Merrell Shoes Made?
China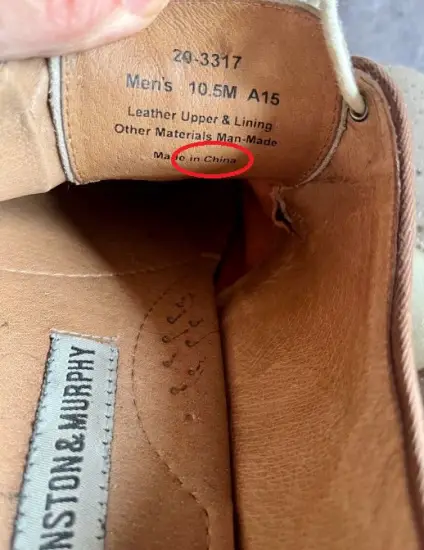 J&M has also worked with contracted manufacturing plants in China. These plants were assigned to make footwear and other related products.
Like other Western footwear brands, J&M chose China as one of its shoe production centers. This country provides shoemaking services for J&M with affordable production costs.
All the items are assembled by a skilled Chinese workforce committed to the global standard.
As published on the official website, Daxton U-Throat is the first shoe line made in China. The rest are fashion accessories and shoe care products.
Other countries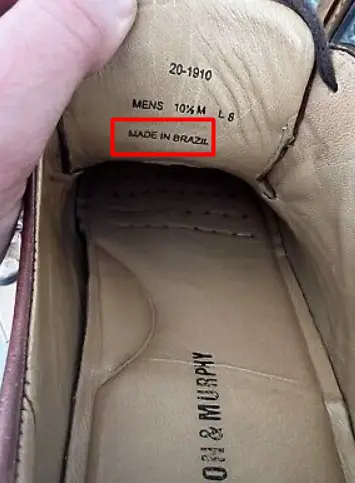 J&M also partnered with various third-party factories in India, Brazil, Mexico, etc. Yet, there is little to no extra information on shoe production in those countries.
Who Owns Johnston & Murphy Footwear Now?
J&M has been under the management of Genesco Inc. (General Shoe Corporation) since 1951.
After this acquisition, Genesco moved the operations of this footwear brand from Newark, New Jersey, to its headquarters in Nashville, Tennessee.
More About Johnston And Murphy Shoes
Johnston & Murphy is an American footwear and apparel company. It's a subsidiary of Genesco Inc.
The brand was established in 1850 in Newark, New Jersey, by William J. Dudley, an English immigrant and an experienced shoemaker.
Before its current name, the brand was named after its founder, William J. Dudley Shoe Company. After several years of relocation and restructuring, this brand has its new headquarters in Nashville, Tennessee.
Nowadays, J&M footwear products are widely distributed within the USA and globally in 92 countries.
Starting with work shoes and shoes for men, J&M expanded its portfolio to those for women in 2008. The brand now offers various footwear options for men, women, and boys.
You can get its products via its official website, direct mail catalogs, one of its 168 retail stores, or the company's factory stores.
How Johnston & Murphy Shoes Are Made?
J&M footwear products blend the American spirit and Italian craftsmanship.
High-quality materials
All J&M footwear products are made from the finest materials, especially real leather. For example, the Flynch and the Ellsworth are assembled from high-quality calfskin leather imported from Italian tanneries.
Animal materials like leather and suede give the products unique color shades, ultimate comfort, and extreme durability.
Latest innovation
Beyond high-quality materials, J&M applies the latest innovations to its shoes to elevate customer experience.
It uses 4 comfort systems on its footwear products, including the Optima Cushion System, the Trampoline Cushion System, the Signature Comfort System, and the XC4 Comfort System.
Depending on the shoe style and type, the brand will choose one of these comfort systems for better shock absorption, breathability, and support.
It also improves popular materials (adding waterproofness to leather on the XC4 Maddox Penny) or invents new materials (e.g., Poron-foam on the insole of Aldrich II Cap Toe).
Beyond shoe manufacturing, J&M is also active in social activities.
It sponsored the Ted Rhodes Charity Golf Classic as part of its partnership with the Ted Rhodes Foundation in its hometown – Tennessee. The goal of this event is to make golf accessible to everyone.
It also partnered with Soles4Schools to donate 400 pairs of shoes to the Metro Nashville Public Schools.
Besides, it donated old footwear to people who need footwear in partnership with Soles4Souls.
Those social activities of J&M reflect the pay-it-forward spirit of this brand – Everyone of all backgrounds and nations deserves care and love, starting with a good pair of shoes.
Final Words
Johnston and Murphy shoes are manufactured in America and some other countries, including Italy, China, etc. These products are highly praised for their affordable price tags and superior comfort, especially the Poron-foam insole.
Beyond ready-made footwear, this brand offers refurbishment services and customized shoe production. Its stunning customization, Italian-tanned leather, and exclusive comfort technologies make J&M stand out among its rivals in the U.S. and globally.