The foot size of NBA players is bigger than regular men, making it difficult for them to look for suitable shoes. With many players that have a height of over 6 feet, who has the largest shoe size in the NBA? And are there other players who also have oversized shoe sizes in this basketball championship?
Let's learn about the shoe size of these NBA players, their profiles, the shoes that they wore in the NBA, along with some other interesting information.
The Average NBA Player Shoe Size
According to one source, the average size of NBA players in the 2013 NBA is 14.81, while that of the average American man is 10.5.
This statistic is based on the fact that an NBA player has a height of 6'7" and a weight of 240 pounds, while a man in the US has a height of 5'9.
However, some other players have oversized feet, making it more difficult for them to find shoes that fit them.
What Is The Largest Shoe Size In NBA History?
US 22 is the biggest shoe size in NBA currently and it's the shoe size of Shaquille O'Neal. Some other NBA players who have this oversized shoe size are Tacko Fall, Bob Lanier, etc.
Check more: The Smallest Shoe Size In NBA History?
10 Basketball Players Who Have The Biggest Shoe Size
1. Tacko Fall (NBA shoe size: 22)
Height: 7'6"
Shoe size: 22
Teams: Boston Celtics, Cleveland Cavaliers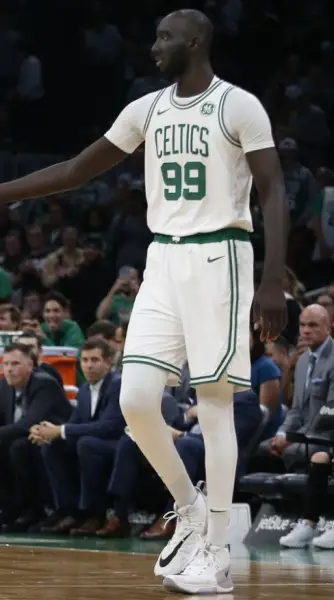 Elhadji Tacko Sereigne Diop Fall (or Tacko Fall) is a famous Senegalese basketball player that has the largest shoe size in NBA with a shoe size of 22.
He is among the tallest human living and also a giant in the basketball industry up till now. His height in shoes is 7'7", his highest standing reach is 10'2.5", and his longest wingspan of 8'2.25", as recorded in the 2019 NBA Draft Combine.
Due to this huge frame, Tacko Fall needs heavy-duty shoes to support his feet. His two favorite shoes in NBA are the Puma Court Rider and the Nike Zoom Rize 2. Besides, he also wore Puma Triple, Puma Court Rider Twofold, and Nike Air Max Dominate.
2. Shaquille O'Neal (NBA shoe size: 20-22)
Height: 7'1"
Shoe size: 22
Teams: Los Angeles Lakers, Boston Celtics, Orlando Magic, Phoenix Suns, Miami Heat, Cleveland Cavaliers.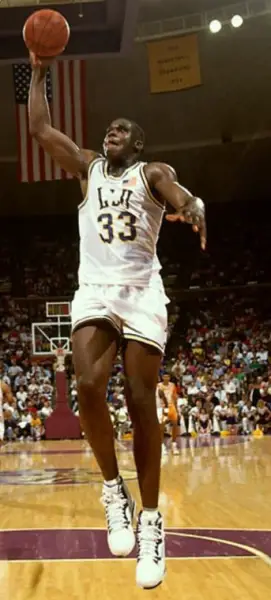 Shaquille O'Neal is one of the most well-known NBA players who have the biggest feet and weight.
Shaq's shoe size is 22 and his weight is 319 pounds, meaning that he should have shoes as a solid foundation. Shaq began his basketball career with a shoe size of 20, and his feet kept getting bigger until their current size of 22. He wore shoes US 21 (with a foot length is 37.5cm).
Shaq was the icon of Reebok since 1992, and he wore Reebok shoes entire his career as a professional basketball player. After ending his contract with Reebok, Shaq worked with the Chinese footwear brand Li-Ning from 2006 until his retirement in 2011.
Some shoe models Shaq wore in NBA are Nike Air Force VI (1991, LSU); Reebok Shaq Attaq/II/III/IV – the first collab of Shaq with Reebok (1992, Orlando Magic); Reekbok Shaq Dunk Mob, Reebok Shqa Reflection, Reebok Shqa Steel (1997-2006, LA Lakers), Heat, Suns, Cavs, Celtics (2006-2011, Li-Ning).
Throughout his career, Shaquille O'Neal has received various individual prizes in the annual NBA for his talent, including:
The Most Valuable Player (MVP) Award (1999–2000)
The NBA Rookie of the Year award (1992-1993)
2 scoring titles
14 All-NBA team selections
3 NBA All-Defensive Team selections.
Check more: 
3. Bob Lanier (NBA shoe size: 22)
Height: 6'11"
Shoe size: 22
Teams: Detroit Pistons, Milwaukee Bucks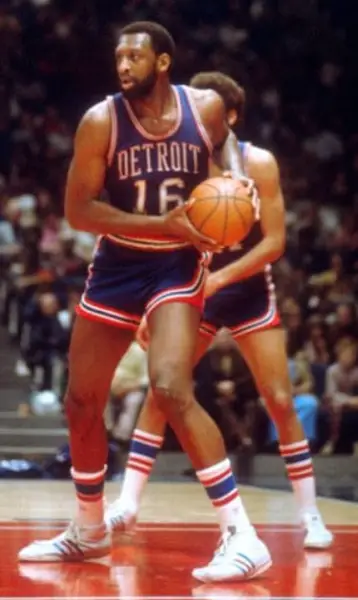 Robert Jerry Lanier Jr. (Bob Lanier) is also an NBA player who has an oversize foot size.
When he was 11, his shoe size was 11. And it continued to get bigger to 22 till now.
A shoe of Bob is shown at the Basketball Hall of Fame as a recognition of his big feet. Throughout his career, he used sneakers from several brands, including Converse.
Bob Lanier is a legendary basketball player in NBA history. He joined in 8 of 14 NBA seasons and won the Most Valuable Player of the 1974 NBA.
After retiring due to knee injuries, he worked as an assistant coach for the Golden State Warriors, then NBA Cares Global Ambassador.
During his 15 years in basketball, he won an MVP Award and got 10.1 rebounds per game, and 20.1 pounds per game. He worked for 2 teams – Detroit Pistons (1970-1980) and Milwaukee Bucks (1980-1984).
4. Brook Lopez (NBA shoe size: 20)
Height: 7'
Shoe size: 20
Teams: Brooklyn Nets, LA Lakers, Milwaukee Bucks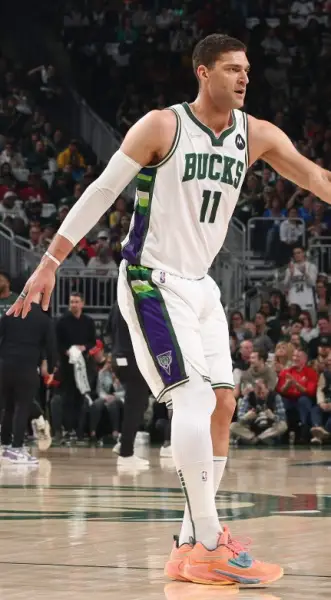 Brook Lopez has a gigantic shoe size of 20 and an impressive height of 7 feet. This NBA player has worked for 3 teams: Brooklyn Nets (5 seasons), LA Lakers, and Milwaukee Bucks (from 2019).
Brook Lopez signed contracts with some well-known sneaker brands like Adidas and Nike.
Some of Brooks' sneakers in NBA seasons are Adidas Crazy Explosive 2017, Adidas Pro Bounce 2018/2019, Nike Zoom Rize, and Nike Zoom Freak 1/2. His current sneaker is Nike Zoom Freak 4.
5. Robin Lopez (NBA shoe size: 20)
Height: 7'
Shoe size: 20
Teams: Phoenix Suns, New Orleans Pelicans, Portland Trailblazers, New York Knicks, Chicago Bulls, Milwaukee Bucks, Washington Wizards, Orlando Magic, Cleveland Cavaliers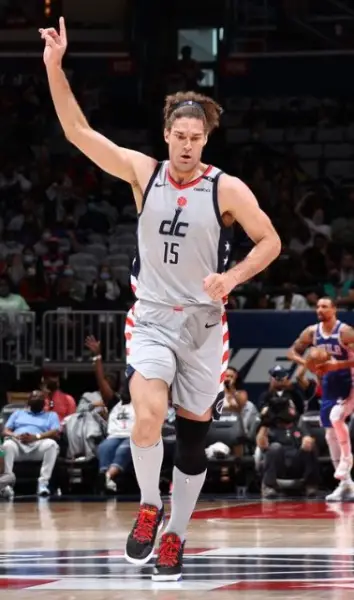 Robin Lopez, a professional basketball player based in California, is the twin brother of Brook Lopez with a similar shoe size of 20 and a height of 7 feet.
He is among the most colorful personalities of the NBA, and also a contributor to many teams like the Kicks, the Pelicans, the Suns, the Bulls, and now the Cleveland Cavaliers.
In more than 900 NBA season games, Robin only got an average of 8.8 points and 5 rebounds. Yet, he still managed to remain in the NBA for over 13 years.
Robin and his bro Brook had signed with Adidas for many years, then move to Nike, then back to Adidas with Adidas Dame 8 as his current shoe.
Besides, Robin had worn some others, including Nike Zoom Frake 1/2, Nike Zoom Rize, Adidas Pro Bounce 2018 Low, Adidas Crazy Explosive 2016/2017, and Adidas D Lillard 2.
He also had a customized sneaker 'Crazy Explosive Low" with pen and marker in 2017-2018.
6. Andre Drummond (NBA shoe size: 19)
Height: 6'10"
Shoe size: 19
Teams: Detroit Pistons Cleveland Cavaliers, LA Lakers, Philadelphia 76ers, Brooklyn Nets, Chicago Bulls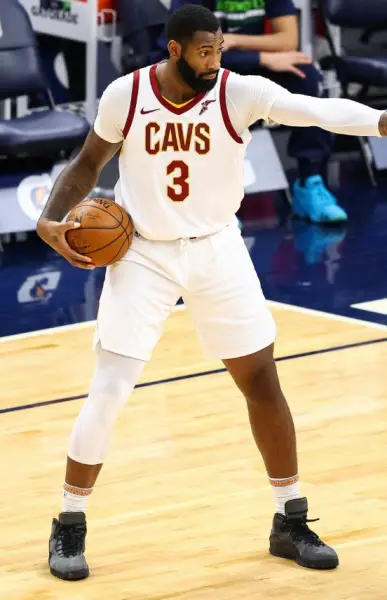 Andre Jamal Drummond (Andre Drummond) is an American-based basketball player that has a big shoe size of 19 and a height of over 6 feet.
Andre is a big fan of Nike sneakers. Now he wears Nike Air Jordan 10 Retro. Before that, he used several shoe models like Nike KD 14, Nike Air Force Max Low, Jordan Jumpman Hustle, and Air Jordan 32.
Andre is a superstar in NBA. Throughout his career, he has earned some highlights and awards, like:
2 "NBA All-Star" awards in 2016 and 2018
"All-NBA Third Team" in 2016
NBA "All-Rookie Second Team" in 2013
"Big East All-Freshman Team" in 2012.
Moreover, he won four "NBA rebounding leaders" awards in 2016 and from 2018 to 2020. Now he is working for Chicago Bulls.
7. Dwight Howard (NBA shoe size: 18)
Height: 6'11"
Shoe size: 18
Teams: Orlando Magic, Los Angeles Lakers, Houston Rockets, Atlanta Hawks, Charlotte Hornets, Washington Wizards, Los Angeles Lakers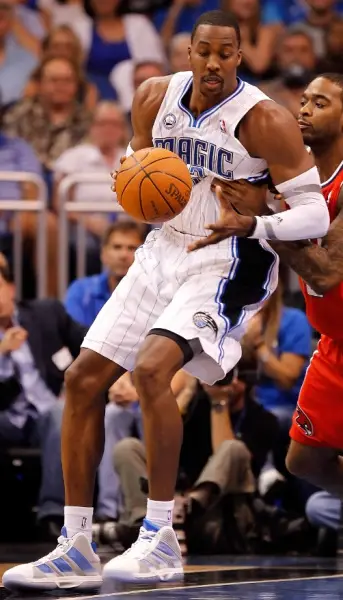 Dwight David Howard (Dwight Howard) is an NBA champion that has an oversized shoe size of 18. With a height of 6'11" and a weight of over 260 pounds, Howard is among the best big players in the NBA.
Some highlights in Howard's career are 8 times All-NBA Team honoree, 8 times All-Star, 5 times All-Defensive Team member, and 3 times Defensive Player of the Year.
Dwight Howard started his career with Adidas shoes. Then, he signed a contract as a representative for Peak, a Chinese shoe brand. At this time, he wore some Peak models like Peak DH2 and Peak DH3 (Peak DH3 is his own signature shoe).
Then, in the 2019-2020 NBA season, he switched to Nike with some models like Nike Zoom Kobe 4 Protro, Nike Kobe 5 Protro, and Nike Kobe AD Exodus.
8. Yao Ming (NBA shoe size: 18)
Height: 7'6"
Shoe size: 18
Teams: Shanghai Sharks, Houston Rockets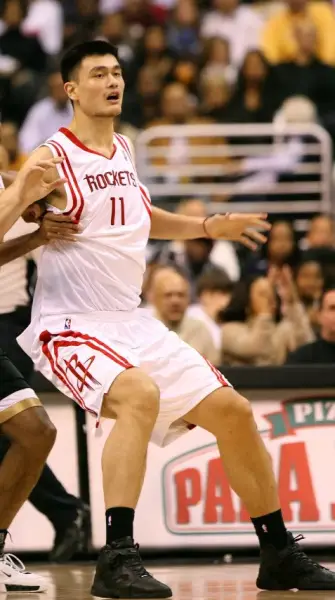 Yao Ming is one of the most well-known Chinese basketball players. He was a retired member of the Shanghai Sharks (CBA) and the Houston Rockets (NBA).
Yao has a shoe size of 18, which is well-aligned with his height of 7'6". His two sneaker models are from Reebok, including Reebok RBK Voyage  Mid (NBA 2007-2008) and Reebok Pump ShowStopper (NBA 2006-2007).
Yao is famous not only for his height but also for his basketball skills. He averaged 9.2 rebounds and 19 points per game.
He was also the first foreign player to lead the Western Conference votes in the NBA All-Star Game 8 times and was nominated to the All-NBA Team 5 times.
In 2010, this Asian NBA player retired after a foot injury.
9. DeAndre Jordan (NBA shoe size: 18)
Height: 6'11"
Shoe size: 18
Teams: Los Angeles Clippers, Dallas Mavericks, New York Knicks, Brooklyn Nets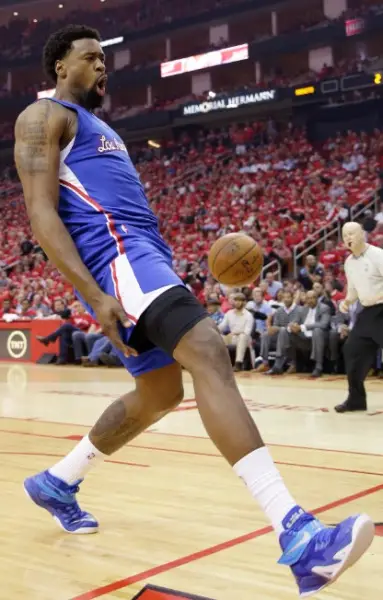 Hyland DeAndre Jordan (DeAndre Jordan) is recently wearing Nike LeBron 20 in a size 18. Before that, he has worn some other models of Nike like Nike Air Zoom GT Cut, Nike Renew Elevate, Nike Kobe 5 Protro, Nike Kyrie 5, and Nike Hyperdunk 2017.
Jordan has earned a great reputation as an efficient scorer, a great defender, and a powerful team leader. He averaged 2 blocks per game in 4 NBA seasons and won a 70%+ field goal from 2014 to 2017.
10. Kevin Durant (NBA shoe size: 18)
Height: 6'10"
Shoe size: 18
Teams: Seattle Supersonics, Oklahoma City Thunder, Golden State Warriors, Brooklyn Nets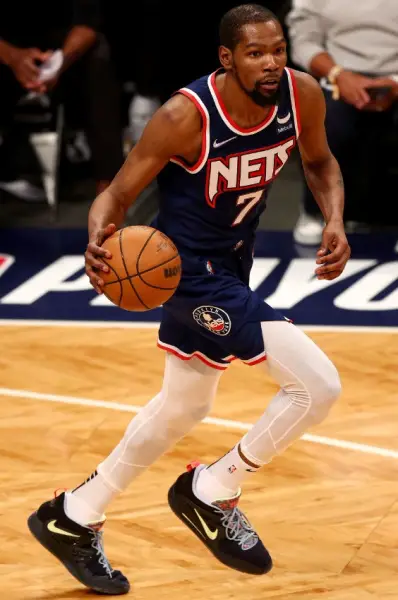 Kevin Wayne Durant (Kevin Durant) is one of the best scorers in NBA history.
During his years in the basketball industry, he has earned many prizes as recognition for his talent, including 2 times as NBA champion (2017, 2018), 13 times NBA All-Star (2010-2019, 2021-2023), 6 times All-NBA First Team, etc.
This American-based basketball player stands at 6'10", and wears shoes in size 18, which is the 7th largest shoe size in NBA history.
During his career, Kevin has worked on various signature shoe deals with Nike. Some of his most well-known collab shoe models – "KD" (the abbreviation for his name – Kevin Durant) are Nike KD 14, KD15, KD Trey 5 VIII, KD Trey 5 X, KD 13, KD 12, KD 4, KD 8, and KD Trey 5 IX. Apart from his name logo KD and his number 35, Kevin added many storytelling details in each model, resulting in shoes in different colorways and traction patterns. His most recent models have a more minimalist approach.
The total shoe deal of Kevin Durant (until the 10-year contract extension with Nike in 2014) is $300 million, which is the third highest in NBA history behind the deals of Michael Jordan and Lebron James. KD basketball shoes are preferable in China to North America.
Final Words
After discussing the shoe size of several NBA former and current players, we have known that Shaquille O'Neal, Bob Lanier, and Tacko Fall have the biggest shoe size in NBA all time – US 22.
Moreover, the shoe size of NBA players is generally bigger than that of average American men. Can larger feet have anything contribute to their success in NBA and in the basketball industry? Feel free to share your comment in the below section.