ASICS builds running shoes around complicated biometrics, making them the most comfortable shoes for professional runners. If you are looking for a new pair of running shoes, you should consider Asics Kayano vs Nimbus – the two most famous shoe lines of Asics recently.
Let's check the detailed comparison between these two Asics cushioned running shoes to know their similarities and differences, and most importantly, which one best fits your needs.
Asics Kayano Vs Nimbus – Key Similarities
First and foremost, Asics Kayano and Nimbus are long-lasting shoes and can last a long time. In other words, they are known for being excellent running shoes for long runs.
Second, these two Asics shoes are made of Asics' patented soft material, which is softer than other shoes on the market. You can use them for walking, running, or for your everyday gym sessions.
These shoes also have Gel around the forefoot and heel for shock absorption and multi-direction foot movement.
Third, both Kayano and Nimbus have multiple widths for different feet, with a tapered standard width. Thus, you can pick up either Kayano or Nimbus even if you have wide feet.
Check more: Do Asics Run Small, True To Size, Or Big?
Asics Kayano vs Asics Nimbus – Key Differences
Fit
Both Asics Kayano and Nimbus can wrap around your foot nicely with a lockdown in the midfoot and forefoot. But their forefoot room might be slightly different. Let's take a detailed comparison between Gel Kayano 28 vs Nimbus 23.
Nimbus is a great choice for runners with stronger feet because it offers you extra airy mesh for breathability in the forefoot and upper. There is enough room to wiggle your toes, yet you still have stability at the same time.
Yet, the upper of the Kayano gives you a lockdown feel, which is preferable for unstable runners. Nimbus is well accommodated to various foot shapes and sizes.
Weight
These two Asics shoes are relatively heavier than regular running shoes in exchange for their supportive foams and Trusstic systems. If you are serious about weight but still want to try one of these Asics shoes, you can consider its latest lighter versions – the Kayano Lite and the Nimbus Lite.
The key Asics Kayano vs Nimbus difference in terms of weight is between men's and women's shoes. Nimbus for men is more lightweight than Kayano (10.8oz vs. 11.11 oz) but slightly heavier in the women's version (8.9 oz vs. 8.7 oz).
Performance & Support
Take a detailed comparison of Asics Gel Nimbus 23 vs Kayano 27. The Kayano 27 has firmer cushioning with a lack of softness and support than the Nimbus 23.
The Dynamic DuoMax stability system of the Kayano 27 enables it to provide more cushioning on your heel and on the medial side.
Yet, on the Nimbus 23, the plush FlyteFoam Propel in the midsole gives you soft cushioning underfoot from heel to toe, not just in the forefoot. Although this foam isn't the plushest one on the market, it still has great durability.
Trusstic System
Both Kayano and Nimbus have the resin Trusstic – a special system on the sole to prevent the shoes from twisting during movement. This system enhances the shoes' stability. However, the level of comfort and support might differ between these two shoes.
On the Kayano, the Trusstic system works with the Dynamic Duomax stability system to provide extra structure in the midfoot and rear areas. It also takes effect from heel to toe while concentrating on the medial side of the foot, which is great for runners with overpronation.
However, the Trusstic system on the Nimbus only works on the medial side of the shoe. Thus, the Nimbus is workable with neutral runners because they only need the Trusstic system in some moments of instability.
Flexibility
You can experience better flexibility with better free toe-off while on the Nimbus with more deep flex grooves than on the Kayano.
However, if you feel unstable in the forefoot area, the Kayano might work slightly better.
Upper
The uppers of Asics Kayano and Nimbus are made from multi-directional engineered mesh for great ventilation and stability. These shoes have reflective fabrics which can glow at night, a cushioning ankle collar for a lock-in feel and comfort, and a traditional lacing system.
The main difference between the uppers of Asics Kayano and Nimbus is the add-in features on their uppers.
The upper of the Nimbus is made of recycled fabric, which can be softer for long-run comfort. On this upper, there are eyelets and a stretch midfoot panel specially designed for extreme flexibility and stability.
On the Kayano, the external heel counter acts as an extra layer of stability to the shoe, keeping your heel protected and stable from the outside.
Midsole
These two Asics shoes are designed what the Trusstic support system for extra steadiness in fast runs.
Yet, the Nimbus has a slight difference between shoes for men and women. The Kayano has its enhanced Space Trusstic System, which gives you a full stability experience in the midsole.
Nonetheless, Kayano features Flytefoam, whereas Nimbus features Flytefoam Propel in the midsole. Flyfoam is 55% lighter while providing the same responsiveness as other types of foam in running shoes.
Flytefoam Propel, a newer foam version, lies in the middle of the midsole and is covered with a breathable, moisture-wicking Ortholite footbed. This modern foam on the Nimbus has powerful bounciness especially on the toe-off while providing better shock absorption on landing.
Another worth note-taking feature on these Asics shoes is the Asics's signature Gel technology. These cushions are in the heel and forefoot areas to absorb the ground impact on every strike. It helps disperse impact evenly and lower the pressure on your foot joints.
Last but not least, these two shoes have Plus 3 midsole technology, which adds 3mm of foam in the women's version for a soft foundation.
Outsole
Asics shoes (including Kayano and Nimbus) feature the AHAR outsole (High-Abrasion Rubber) with flex runner grooves to target uneven terrains. This solid and durable outsole can last long if you take care of it carefully.
However, the outsole of the Asics Nimbus is more flexible than that of the Kayano since it has more grooves for extra freedom of movement in the forefoot area. Plus, the Gel on the forefoot and heel reduce impact while offering more comfort for a confident and smooth run.
If you are a beginner in running or you run a few miles per day for fun, the carbon rubber outsole on the Kayano is enough for you.
Thanks to the grooves in the heel zone and striking zones, you will have more support and comfort to run fast and smoothly with little effort.
And if you have wide feet, you will be happy to know that your feet are protected by the Trusstic system from toe to heel of the outsole.
Price
While the Asics Nimbus is a neutral option for everyday trainers, the Asics Kayano gives you more support and protection with a slightly higher price tag. They are not the most affordable shoes of Asics but contain the latest technology and high-quality cushioning, which are worth the price.
Check more: Where Are ASICS Shoes Made?
A Brief Introduction To Asics Gel-Kayano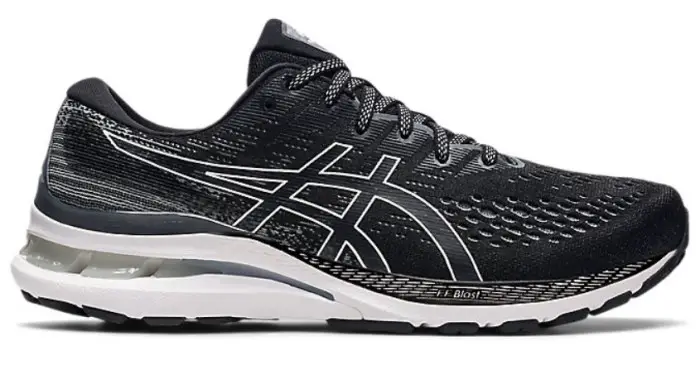 Asics Gel-Kayano is designed for flat feet (or runners with a low arch), overpronators, or runners with moderate to severe symptoms of plantar fasciitis.
Thanks to its deep heel cup and cushioning system, this sneaker can maintain your speed with great responsiveness, stability, and comfort.
Some technologies in the Kayano are DuoMax technology, the FlyteFoam Propel cushioning system, and the signature Gel technology.
From 1993 till now, there are more than 25 versions of Gel-Kayano. The latest Kayano is Kayano 29, which was released on July 29, 2022.
A Brief Introduction To Asics Gel-Nimbus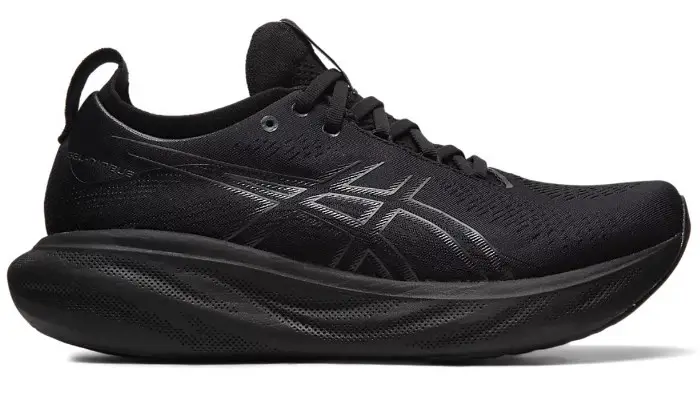 Asics Gel-Nimbus is born for neutral runners with a few requirements in running.
These running shoes have plus cushioning and are made to help you stay balanced and comfortable on your miles. They feature a 10mm heel drop and weigh 10.9oz (for the men's version). Nimbus can be fitted with various foot shapes and sizes.
From 1964 till now, there are 25 versions of Gel-Nimbus. The latest Gel-Nimbus is Nimbus 25, which was released on February 1, 2023.
Final Verdict: Is Kayano Or Nimbus Better?
So, Asics Kayano vs Nimbus, which one works better for you as a runner? The answer depends on which type of runner you are and how you run.
If you need more guidance, you overpronate, you have some foot-related problems (for example, plantar fasciitis), or you want to run fast in comfort, Kayano is your best choice.
Conversely, if you only need neutral running shoes for your fun run, or for your first 5K, Nimbus is more affordable yet still powerful enough.
Happy running!