Hey Dude has been one of the most popular shoe brands in the market recently. It's an expert in style, comfort, and fit for wanderers and adventurers. So are Hey Dude shoes waterproof or not? 
Well, it's worth checking whether you can get wet with their new pair of kicks. And then we shall look at some handy tips on washing them properly.
Hey Dude Shoes Are Not Waterproof
Like a few traditional shoes, Hey Dudes shoes are not waterproof. In that case, do not try to wear Hey Dude shoes in the rain. To make up for that, they get made of lightweight material that can dry out fast. And their EVA soles can help the shoes float on water.
Shoe's material
Speaking of their material, the brand mainly uses canvas, a coarse cloth type to make Hey Dude shoes. It's machine washable and can dry fast as well.
How about the insoles? Most of them arrive with leather-lined memory foam insoles. Yet, everyone can freely select insoles made of cork or canvas. Those made with cork get sealed with coconut oil to maintain their freshness. And no animal by-products are used.
Recently, Hey Dude has developed a new material known as Flexwood. With hand-selected veneer, each shoe has a unique texture that you hardly find anywhere else. Another material used by the brand is Eco-Knit material. It's not only soft but also durable when made from 100% recycled fiber.
For that reason, a pair of Hey Dude kicks is perfect for any active lifestyle and activity. All you do is pick from a wide range of trendy designs and be ready to move with your feet. Adjust the stopper to make your lace tighter or looser as you like.
Hey Dude Shoes Can Float On Water
To know whether a pair of shoes float in water or not, come to look into their density. If their density is more than that of water, it surely sinks.
For Hey Dude shoes, you can walk weightless in them!
These shoes are the epitome of lightweight comfort and casual style. Not only form to your feet but they are also made to offer bounce and flexibility to your movement. As a cloth-type material, this helps Hey Dudes shoes float on water without a doubt.
Hey Dude Shoes Are Washable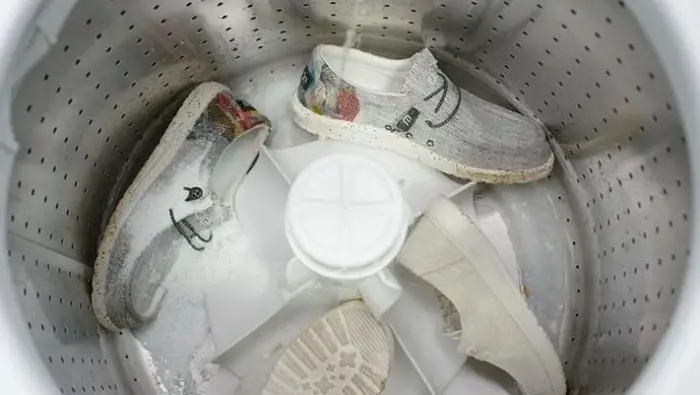 Any shoe can get cleaned safely in the washer except for leather, suede, and wool materials. But if you're afraid of damaging your Hey Dudes and hate placing them in the washing machine, go hand washing instead. Here's how to clean the shoe step by step.
Step 1: Prepare a soft bristle brush to clean dust and dirt particles from your shoes. Or you can wipe or rinse off clumps of dirt with a cloth, a rag, or a towel. If your Hey Dude shoes are not too dirty, skip this step and move on to washing them.
Step 2: Pour some cold water into a bowl and add dishwashing soap.
Step 3: Dip the bristle in the cleaning solution and scrub the soles. Start brushing Hey Dudes. Keep doing this till your pair of kicks are clean. Make sure to brush them gently.
Step 4: Dip another old towel or cloth in the lukewarm water and squeeze it out. Ensure it is damp, not too wet. Tap the cloth in your Hey Dude shoes to remove the soapy residue.
Step 5: Begin the drying process for your shoes. Hang them somewhere with airflow to help the shoes dry faster. If you place them outside, keep them out of direct sunlight. Most Hey Dude shoes tend to dry within two hours.
If you intend to air dry the Hey Dude shoes indoors, use a fan to speed up the drying process. And to help the shoes keep their shape, put a plain crumpled paper before drying them.
Hey Dude shoes are safe with machine washing
Washing Hey Dude shoes in the washing machine is a perfect way to clean up kicks without harsh chemicals. But first, get rid of any dirt with soft bristles. Afterward, place them in a laundry bag and wash them in the washing machine. Check out our step-by-step instructions below:
Step 1: You should know how to remove insoles from your Hey Dudes. Well, they tend to come out with ease. When seeing them stick down, put fingers under their insoles. And you need to move them toward the front of your footwear. Try to pull them up slowly before removing the laces.
If you want to wash the laces with your shoes, place them in a laundry bag or a pillowcase. Then throw the bag with laces into the washing machine once you run the cycle.
Step 2: Add a teaspoon of liquid detergent to one cup of water or as much as you like. After this solution is all ready, place shoelaces in it and wait for one hour. Next, you can wash them with your hands, and you'll see them neat and clean at once.
Step 3: Hey Dude insoles are made of memory foam, so if you wash them in the machine, they soon lose shape. Get a toothpick to remove dust particles or mud in your soles. Do it carefully, and ensure to brush the shoes before placing them in the washing machine. If not, the water will be stained.
Step 4: Place your Hey Dudes in a wash bag to prevent them from tangling with each other. Feel free to add some old towels if the shoes are not balanced.
Step 5: Half full machine with cold water instead of warm water since it causes shrinkage. Set it on a gentle cycle. Use the liquid instead of powder because these particles of detergent can be stuck in your shoes.
Step 6: You're all done!
Air Dry Is Better For Hey Dude
Unlike other brands, Hey Dude claims that you can clean canvas shoes in the machine. Once they are muddy, wait till they dry out before cleaning.
As you know, the heat from the dryer can ruin materials. Let's dry them in a place where they are not affected by direct sunlight. Its rays can destroy your shoes' fabrics. And do not dry them in an unnatural way like using a dryer for example.
First of all, open your shoes as wide as possible. Make balls of paper and place them into your footwear to absorb most of the water. But the shoes can take several days to dry according to the material.
Secondly, the fridge creates hot air, which is the best place to dry the shoes. In this situation, you only wait till they get dried, and doing so can help kill bacteria on them. It generally takes one day for that process to complete.
Baking Soda Can Deodorize The Hey Dude Shoes' Inside
A lot of summer sneakers are made of canvas. And they still look great till you step in mud or mown grass. In that case, you may wonder if you can get them bright again. Baking soda is one of the top secret weapons for you to restore these Hey Dude shoes to another like-new look.
Simply add baking soda to your footwear and leave it there overnight. For deodorizing the inside of Hey Dudes, put some baking soda in a piece of cloth and then tie it up. If not, try putting it in a sachet or a plastic bag. Doing this way will stop you from worrying about dirtying your shoes with soda powder.
Baking soda, hydrogen peroxide, and water make a perfect cleaner for white shoes. In case you have no peroxide on hand, skip it and then create the paste from two substances.
Lastly, avoid wearing the same shoes two days in a row and put on socks when wearing them. Doing it that way helps you reduce your foot and shoe odor.
Final Words
To conclude, due to their canvas material, Hey Dude shoes are not waterproof at all. Yet, their lightweight material helps it dry easily. Besides, you can find a water-resistant canvas shoe from this brand if you like. Take the Hey Dude Wally ADV shoe for an example. This shoe is ready for your adventure, so do not miss it!