If you are not familiar with the Birkenstock brand, birko flor vs leather can be a difficult debate. They both are popular materials with a great reputation on the market. Therefore, it's good for you to know about what they can provide and what they lack before placing your purchase.
Overview of Birkenstock Birko Flor and Leather
The German brand focuses on quality and entrusts its products with only the finest materials. Along with the elegant and fashionable designs, it leaves a good impression on both male and female users around the world.
Birko Flor
Synthetic materials sometimes sound unsettling, but not the birko flor used in Birkenstock products. It makes sure customers have an easy time tending to their shoes and cradles their feet with a fleece layer inside. Shoemakers can also dye birko flor in different colors.
Leather
With a reputation built and solidified throughout history, leather is the best material for shoes. It gives you comfort, breathability, softness, and perfect form. Manufacturers also adore leather for how pliable it is for processes such as shaping, stitching, and stretching.
If you see a piece of leather with a rough, uneven surface, it is likely to be in its natural form.
There's no change and surface treatment made, and Birkenstock does it every time they want their leather to look as real and raw as possible. Alongside oiled leather, it is a very pleasant experience for customers in search of a natural and traditional appearance.
On the opposite, patent leather shows us an absolutely fine surface. It consists of several kinds of leather and possesses extreme durability against unfavorable conditions. With proper maintenance, it definitely can stick to you for a long time.
When you feel like your leather has been buffed and softened, it is suede for sure. The surface is not smooth but fibrous and rough instead. Looking at the pores though, you can already tell how breathable it is.
Without grains on a buffed surface, nubuck leather is so soft to the touch it almost resembles velvet. If you drag your fingers on a piece of nubuck leather, the fibers will part and leave a trail behind. It's great for shoe-making, yet you will have to waterproof it carefully.
Birko Flor vs Leather: Key Differences
Materials
Leather, without doubt, is one of the finest materials in fashion and most other industries. Soft and smooth but also durable and breathable, leather would have been flawless if it required less maintenance.
Not using any product from animals, birko flor for sure seems a lot better than leather for many people. You have a lot of options for its color and finish, which is worth considering as well.
Style
Leather is unique by nature, and it never goes out of fashion. The traditional vibe radiating from it also looks elegant and classy. If it's the style you are searching for, try it immediately! However, be informed that the brighter the leather is, the more expensive it becomes.
Birko flor, on another hand, is more affordable by the sheer look of it. It is dyeable, hence the brands often try various colors and designs on it. Young buyers might feel more attracted to this material.
The Fit
So many experiments have been done on leather that it is difficult to develop a new formula for making a good fit out of it, but in the beginning, leather will always demand some breaking-in before it can embrace your feet perfectly.
Birko flor doesn't need to be broken in, but due to being a new material, the new recipe doesn't reach its full potential, and it won't get better with time.
Comfort & Support
Undoubtedly, you will find leather thick and durable by simply touching it. While it feels soft under your fingertips, it can definitely protect your feet from damage without causing any discomfort.
No matter how they produce and handle birko flor, it always seems more flimsy than leather. It is not vulnerable but you certainly need to take notes of this detail while making your decision.
Durability
In history, not many materials can surpass leather in terms of durability. It can suffer weather damage and strain over the years, and it will still stand proudly as long as you give it decent care.
Birko flor can withstand the test of time like leather, and it slowly wears out the more you use it. If durability is the only quality you care about, leather will win by a landslide.
Weight
If you have held an item made of leather in your hands, you will know it feels a little heavier than other materials. While the softness and the comfort are great for shoes, they can be a drawback when you need something more lightweight.
Weight is birko flor's advantage in this category. It was meant to imitate leather on a lower level, but it definitely wins if you are asking which is less heavy.
When To Choose Birko Flor Birkenstock?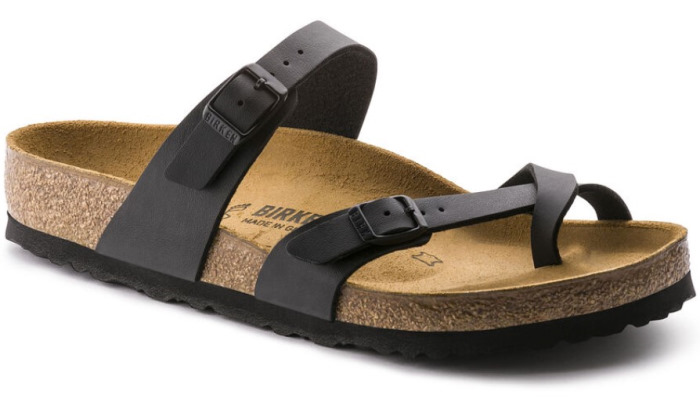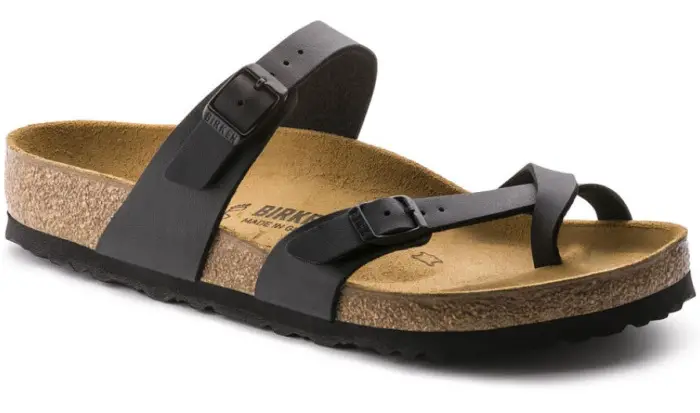 Although leather is incredibly popular as a material, customers have many reasons to put their faith in birko flor:
Maintaining birko flor in its best condition is a simple task to achieve.
Birko flor is available in many colors and designs, thus you can always keep up with the trends.
Birko flor is undoubtedly not as expensive as leather.
However, the material has some disadvantages to be aware of:
There has to be an inner layer made of fleece in order for it to feel soft and comfy against your feet. Otherwise, synthesized materials like birko flor might feel scratchy and cause rashes if your skin is sensitive.
Unlike leather, it doesn't get closer to its prime time when you use it more often.
It is indeed more affordable, but you usually get what you pay for. You can't expect birko flor to perform better than leather.
When To Choose Leather Birkenstock?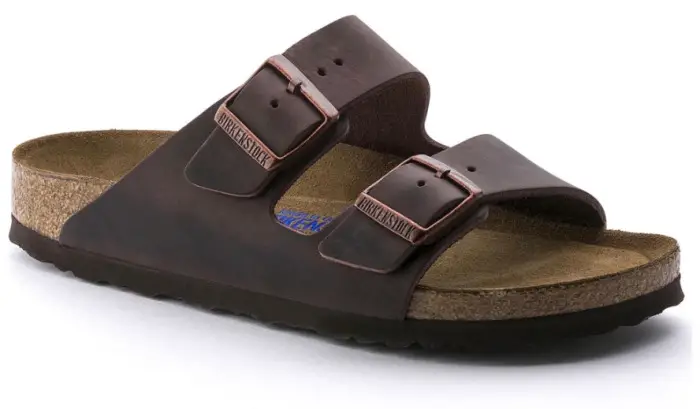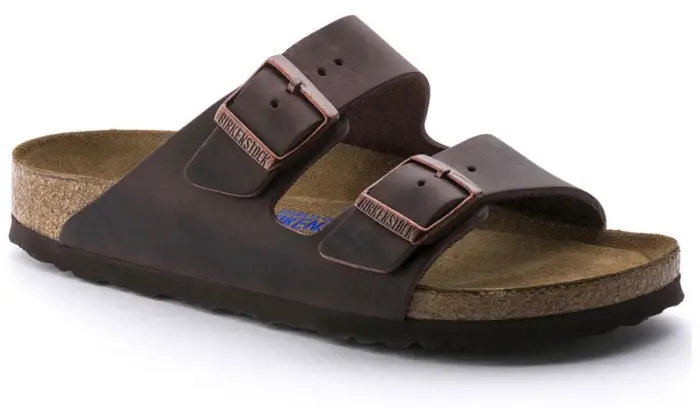 There are many cases where the leather option will benefit you better:
Leather has great durability as long as you take good care of it. Hence it is a suitable choice for people who don't plan to change their shoes every year.
The material is extremely comfortable to wear. The longer you use it, the more it molds to your feet and ankles.
Leather is timelessly fashionable. You don't need to worry about running after the trends if you choose leather.
It is more breathable compared to what birko flor can provide.
Despite the high-quality reputation, leather actually requires minimum maintenance. Cleaning it is not a complicated task either.
Before you decide, be advised that leather has downsides as well:
Leather feels thick and possibly stiff at first, you will need to break it in before you can use it.
For nubuck leather specifically, the stretchy property is also its bane. If you pull too hard and stretch it too much, the holes on the straps will also be stretched so badly they don't fit the size of your feet anymore.
Suede leather is the easiest to wear out compared to other types of leather.
Birkenstock leather is remarkably expensive.
Final Words
Birko flor vs leather is not a handicapped match when it comes to the high-quality products from Birkenstock, but hopefully, you know exactly how to choose between the two materials for your benefit!
Both of them have their advantages and disadvantages, but leather is the better option if you put the price out of the picture.