Are you out for a hike this weekend? Merrell should be a first in mind for you! This American footwear brand offers a wide variety of hiking boots and shoes for lightweight hikers and long-hour backpackers.
Yet, where are Merrell shoes made? And how can Merrell maintain its excellent product quality across over 32 countries?
Let's investigate the shoemaking story of Merrell to learn more about this brand.
Merrell Shoes Overview
Merrell Shoes is an American footwear company founded in 1981 by three founders – Clark Matis, John Schwizer, and Randy Merrell.
The Merrell headquarters is in Rockford, Michigan, U.S., and offices in Hong Kong, London, Toronto, and Santiago.
First entering the footwear market with high-performance hiking boots, Merrell quickly expanded its reach to other shoe types, including athletic shoes and sandals.
Beyond footwear goods, it also manufactures and distributes fashion goods and accessories.
Merrell became a part of Wolverine World Wide Inc. in 1997. This 42-year shoemaker has widely appeared in over 32 European countries, the Americas, the Middle East, Africa, and Asia.
Where Are Merrell Shoes Made?
Merrell shoes are mainly made in Asian countries like Vietnam and China, with a smaller number made in the United States of America. The global supply chain of Merrell is spread globally in 13 countries.
Since Merrell doesn't have third-party factories, all shoes of this brand are manufactured in the global factories of Wolverine Worldwide.
Costs, market demands, and local benefits are three primary reasons Merrel focuses on shoemaking in a prominent footwear market like Asia.
First, the labor wage, material costs, and production costs of shoes in Asian countries are much lower than those in developed countries.
Secondly, transporting goods from Asian countries, especially China and Vietnam, is more cost-efficient.
Plus, the geographical position of Asia makes it easier to spread the branding image of Merrell to surrounding countries.
Vietnam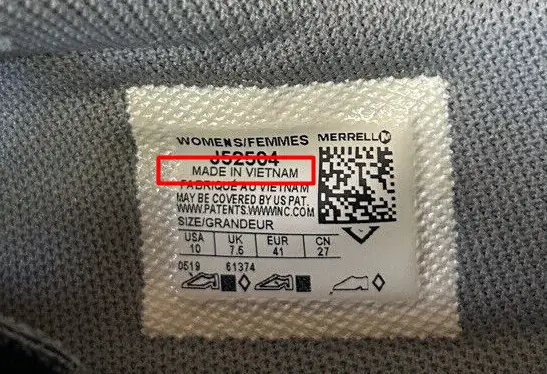 Vietnam is the new rising destination for the latest Merrell shoes. According to the Merrell (WWW) Global Impact Report in 2021, Vietnam accounts for 30-40% of Merrell shoes.
Check more: Where Are Nobull Shoes Made?
China
20-21% of Merrell shoes are made in China as of 2021.
However, this number shows a declining trend due to the increased labor wage in China, the U.S. tariff war, and the post-COVID-19 manufacturing trends.
For whatever it takes, China will still be among the major manufacturing centers of Merrell in the upcoming years for three reasons.
First, the labor costs in China are still lower than that in European countries or America. Chinese footwear workers have a lot of experience and skills to fulfill gigantic orders within a tight schedule and high-quality output.
Second, the leather industry in China is growing, encouraging Merrell and other footwear brands to maintain their manufacturing plants here.
Last but not least, China has a high availability of raw materials for shoemaking aside from leather.
Consequently, Merrell still imports some raw materials from China to assemble its shoes in another country.
United States
Only 1-10% of Merrell shoes are made in the U.S., mainly Merrell Moab shoes and other premium hiking shoes.
In other words, it's harder to find Merrell shoes made in the USA than in other Asian countries like China and Vietnam.
The first Merrell hiking boots were made in its home country – the United States, with a unit price of $500. These high-performance boots were made in 1981 before Merrell joined Wolverine World Wide Group.
Merrell's footwear factories are mainly located in North America.
In these factories, footwear designers execute the latest innovations and work on modern machinery to design new shoe models for the American and global markets.
Other Countries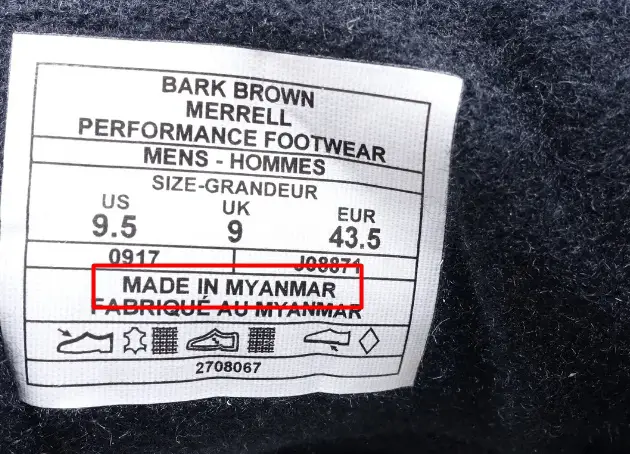 Up to 20% of Merrell shoes are made in 10 other countries, including the Dominican Republic, Turkey, the Philippines, Mexico, India, Argentina, Pakistan, Indonesia, Thailand, and Myanmar.
Who Owns Merrell Now
Wolverine World Wide Inc (WWW), a publicly traded footwear brand house, has owned Merrell Shoes since 1997. This corporation is responsible for the inventory, manufacturing, distribution, and marketing of all shoe models until now.
Apart from Merrell, WWW owns the official license of many other footwear brands like Saucony, Keds, Wolverine, and Bates.
What Are Merrell Shoes Made Of?
All Merrell shoes, from the upper to the sole, are made of first-class materials, including:
Leather
Leather is soft and comfortable for your foot's skin.
Depending on the shoe's model and style, Merrell uses various leather types for its products, including full-grain leather, reverse full-grain leather, split leather, nubuck leather, and pigskin leather.
Synthetic Materials
Besides leather, Merrell also utilizes some synthetic materials, vegan leather, or ventilated materials. These artificial materials provide excellent waterproofness, performance, and durability for extreme backpackers.
The clever mix of natural leather and synthetic materials makes Merrell shoes resist better on all hiking terrains.
How Are Merrell Shoes Made?
Unlike traditional construction, all parts of Merrell shoes are connected using exclusive construction and techniques.
Strobel Construction
This construction welds the upper and the outsole together using heat and adhesives. It creates a flexible yet minimal boot for daily use or weekend trekking/hiking.
Norwegian Welting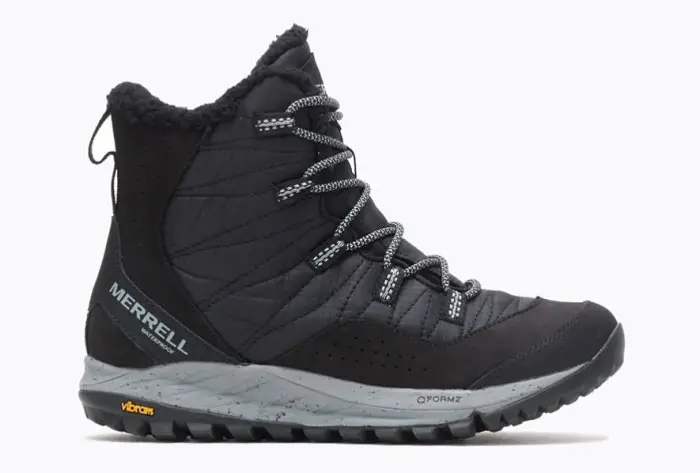 Like Strobel construction, this sewing technique sewed the outsole with the upper for incredible stiffness and sturdiness. This technique once appeared on the Wilderness – the first hiking boot of Merrell.
Since Merrell specializes in shoes for hikers and backpackers, its shoes are designed with excellent waterproofness, insulation, and support.
Waterproofness
Merrell shoes stay waterproof thanks to a breathable lining within the shoe. Merrell offers three waterproof options for shoe lining: GORE-TEX, using full-bootie or seam-sealed construction.
Insulation
Going out under cold rain or snow can be deadly cold. Merrell shoes keep your feet warm and protected with proper insulated linings to maintain body heat, starting from the inside of your shoe.
Check more: Top 10 Best Snow Boot Brands
Comfort
The first and foremost criterion when purchasing hiking shoes is comfort. Merrell uses air cushion, lug pattern, and heel brake to keep your feet and body safe and flexible.
It has also partnered with Vibram – the world's leading provider of rubber shoe soles, to design some of its hiking footwear products.
Sustainability
Merrell stays balanced between product quality and sustainability in all of its products. It has no accusation of human trafficking, slavery, or forced labor.
It also follows the Conflict Mineral Policy by requiring its suppliers not to use or buy conflict minerals.
This American hiking shoemaker also complies with the OECD Guidance (the Due Diligence Guidance for Responsible Supply Chains of Minerals from Conflict-Affected and High-Risk Areas by the Organization for Economic Co-operation and Development).
As a part of the Wolverine World Wide, Merrell also follows the Code of Conduct by this corporation. Merrell has precise requirements when finding and working with suppliers and its owned factories.
Final Words
Merrell shoes are manufactured globally in 13 countries, with an intense concentration in two Asian countries – Vietnam and China.
With over 42 years of continuous improvement and development, this multinational brand has earned a lot of reputation in the hiking and outdoor niche.
What are your favorite Merrells – Merrell Moab, MQM, or Merrell Hydro Moc? Tell us in the comment box.