If you are a runner or a hiker, you might have heard at least once about the Saucony brand. With a history of over 125 years in the footwear industry, this market leader is highly praised for its high-quality and durable footwear products.
Yet, where are Saucony shoes made?
Let's see the exciting story behind Saucony and how this brand can make great pairs of running shoes for generations of runners.
Where Are Saucony Shoes Made?
Most Saucony shoes are made globally in different parts of the world, including Asia and North & South America.
According to the Saucony Global Impact Report of 2021, Vietnam and China account for the majority of their footwear production, approximately 60%.
This brand spread its production network in Asian and South American countries while maintaining a small number of its shoes in America.
According to the market forecast of Saucony, there will be more Saucony shoes made in Asia than in America. Some reasons behind this trend can be affordable production costs, rising market demands, and corporate and geographical benefits of Asia.
As part of the Conflict Minerals Policy's final draft (published in April 2014), Wolverine and its child brand, Saucony, also imports raw materials and components from other countries from its global network.
For instance, the "Made in Italy Shadow 5000" series has its finest suede leathers from Italy, a European country with a rich heritage for premium leather shoes and fashion goods.
Now, you have had a glance at where Saucony shoes are made. So, how has Saucony started and maintained its footwear production in each nation?
Vietnam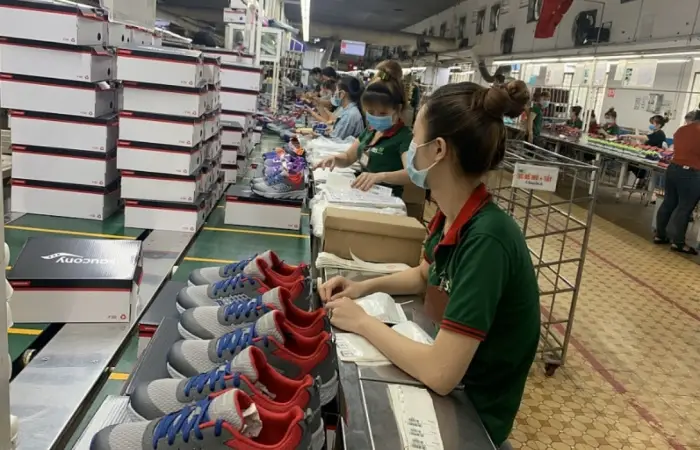 Vietnam accounts for most of Saucony's shoemaking, approximately 31-40%, as of 2021.
This percentage is reasonable, as it is part of's plan of Wolverine World Wide to shift its shoe production from China to other parts of the world, especially Vietnam.
Vietnam is a promising destination for multinational companies like Saucony. The country has a strong labor force with rich experiences in shoemaking with global standards and affordable costs.
Plus, the political conditions in Vietnam are stable, attributed to the mass production of fashion and footwear goods.
Some Saucony shoes that are made in Vietnam:
Saucouny Jazz Original
Saucony Guide 15
Saucony Triumph 21
Cohesion Sneakers for Kids
Check more: Where Are Reebok Shoes Made?
China
China, like Merrell, is the second biggest supplier of Saucony and other Wolverine World Wide Inc. brands.
More specifically, around 21% of Saucony shoes are assembled in China.
Saucony owns no plants here, only third-party contracted ones. Endorphin Pro 3, Kinvara 13, and Ride 15 are the latest sneakers made in China.
However, Saucony hasn't made public any information on its shoemaking activities in China.
United States
The United States accounted for the majority of Saucony shoes since 1898.
The first Saucony shoes, like the 7446 Spike, were made in the United States. This country is also where Saucony started and maintained its business for over 125 years.
Saucony launched its first U.S. factory in Kutztown, Pennsylvania. This brand also has shoes made in the Wolverine World Wide's brand factory in Grand Rapids, Michigan.
Yet, there are no further details on the number of factories in this country and the shoemaking capacity here.
As the Saucony's ownership changed, its worldwide manufacturing network gradually spread.
After being acquired by the Stride Rite Corporation in 2005 and Wolverine World Wide in 2012, it shifted its supply chain outside of America.
The brand partnered with third-party vendors in other parts of the world. They focus on Asia and South America, with a rising demand for imported athletic shoes.
Some sources claim that they stopped their production in America in 1994. Yet, they still maintain at least 1% of their global in the home country until now. Some collections, like the "Made in Maine," are proudly made in the USA.
US-original Saucony shoe models are made by skillful American artisans and are marketed for the U.S. market. The brand can better control product quality and manufacturing processes by making shoes in its factories.
Plus, the sales from these shoes can support the domestic economy while minimizing the carbon footprint by reducing delivery distances.
If you are in a state in the USA, you can find US-made Saucony shoes with labels like "Made in USA" or "Made in America".
Some highlighted models in this group are the Guide 16, the Endorphin Edge, the Jazz 81, the Shadow 6000, and the Echelon Walker 3 Extra Wide.
Other Countries
Apart from the three above manufacturing centers, Saucony also spread its global supply chain to other countries in Asia and South America, with Cambodia, Indonesia, and Bangladesh as the three primary nations.
In Asia: Turkey (Middle-East Asia); India and Pakistan (South Asia); Thailand, Myanmar (Burma) and the Philippines (South-East Asia).
In South America: Mexico, the Dominican Republic, and Argentina.
Who Owns Saucony Footwear Now?
Wolverine World Wide Inc. (WWW) is the latest owner of Saucony Footwear. This corporation acquired Saucony as part of its acquisition with Collective Brands' Performance Lifestyle Group in May 2012.
After the purchase, Wolverine shifted Saucony's footwear manufacturing from America to third-party vendors in South America and the Asia Pacific.
This decision of Wolverine positively influences Saucony, building a solid presence of this brand worldwide.
Before WWW, Saucony was under the management of Hyde (1968-2005), Stride Rite Corporation (2005-2007), and Collective Brands (2007-2012).
More About Saucony Shoes
Saucony Footwear is an American footwear and apparel brand owned by Wolverine World Wide Inc.
It was established in 1898 at Kutztown, Pennsylvania, by four founders – Thomas S. Levan, William A. Donmoyer, Benjamin F. Reider, and Walter C.C. Snyder.
Up till now, this brand has its headquarters in Waltham, Massachusetts.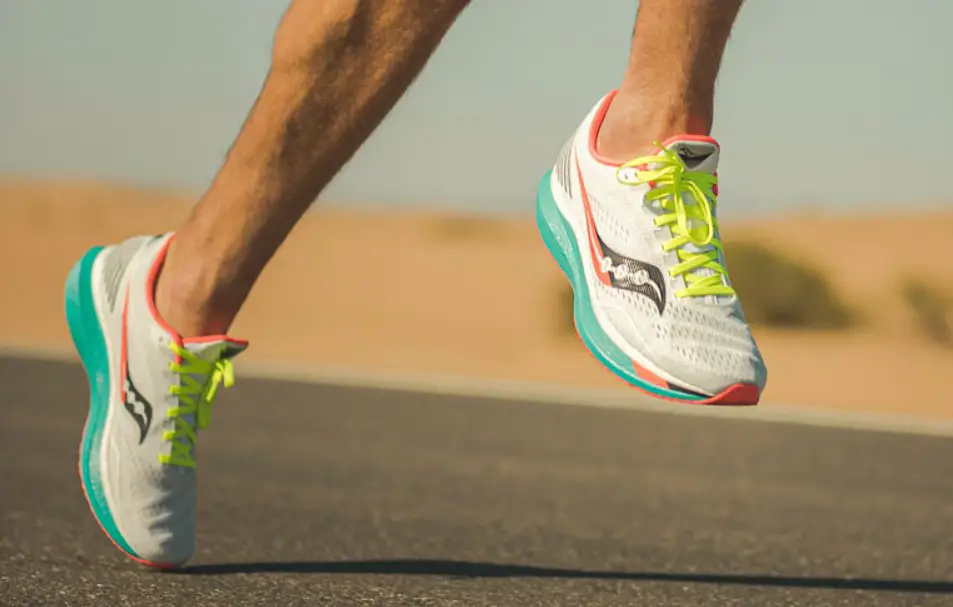 The brand name "Saucony" (sock-uh-knee) takes its inspiration from the "swiftly flowing river" of Saucony Creek.
This name also reflects the brand's mission – designing and distributing flexible and comfortable shoes for runners.
Over 125 years, Saucony has earned a good reputation in the global footwear market.
The brand specializes in several shoe types: walking, general and trail running, and racing. These shoes have user-centric designs and apply the latest innovations to match customers' needs.
Read more: Saucony Endorphin Shift vs Speed vs Pro
How Saucony Shoes Are Made?
With over 120 years of continuous innovation, it is reasonable that Saucony shoes have been the favorite choice of generations of Olympician participants and famous athletes worldwide.
Some of them are Magda Boulet, Wallace Spearmon Jr., Molly Huddle, Jared Ward, etc. Saucony shoes are worth your investment, even if you are an occasional runner.
High-quality Materials
Saucony promises to import the finest raw materials from trusted suppliers worldwide for its shoes. It applies various materials on a single shoe, including synthetic textiles, rubber, cushioning, foam, etc.
Clear, high-quality material sourcing ensures durability and functionality for its footwear products.
Some highlighted materials from the Saucony brand:
Besides carbon rubber, Saucony shoes are also applied with crystal rubber for durability and traction without adding extra weight to your feet.
This new rubber has three times more coefficient and friction than traditional carbon rubber. You can concentrate on your run when wearing Saucony shoes with PWRTRAC (Peregrine, Fastwitch, Switchback, Xodus).
EVERUN is a thermoplastic polyurethane three times more durable than traditional EVA. This foam returns 83% of the energy to your feet, creating a bouncy and light feeling.
EVERUN can cover the whole midsole like the Triumph, Xodus, Hurricane, and Freedom, or the top sole like the Echelon, Kinvara, Madriver TR, and Peregrine.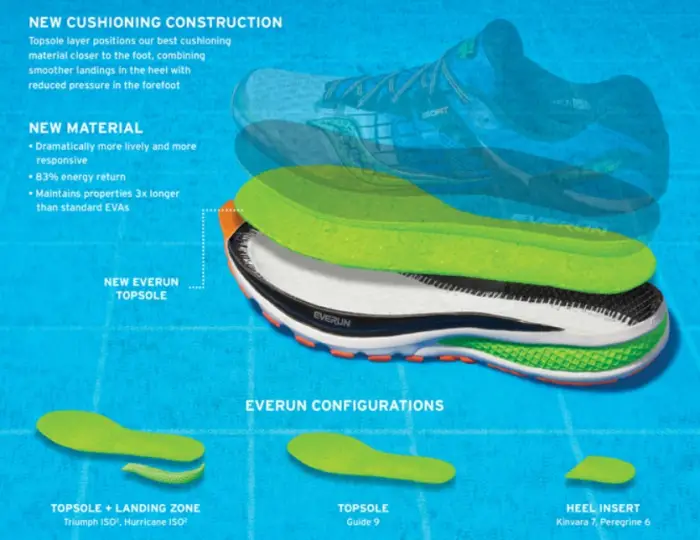 Much Care In Every Detail
Saucony shoes cater to the runner's foot size and shape, running type, arch, and pronation. You can easily choose shoes that match your exercising purpose and foot shape, enhancing your performance and comfort.
The running shoes are APMA-approved for their benefits to your foot and body's health.
Besides their fitness purpose, you can use the shoes to support your medical treatment or reduce pain from foot-related problems.
Latest Technologies
Moreover, Saucony shoes also apply the latest exclusive technologies from the R&D of Saucony for a smooth and safe running experience.
The triple cushioning comprises three layers, each serving a specific purpose.
The top one hugs your foot for a tight custom fit. The middle one adapts to your move and balances small pressure areas. The bottom layer, or the one near the ground, keeps your foot secure.
ISOFIT is a soft sleeve integrated into the shoes. This especially inner sock hugs your foot for a secure fit. Since the sock moves with your steps, it keeps your foot safe and comfortable every mile.
This exclusive midsole from Saucony is 20% bouncier and 15% more resilient than standard ones. It also delivers excellent impact protection and soft, natural movements from heel to toe.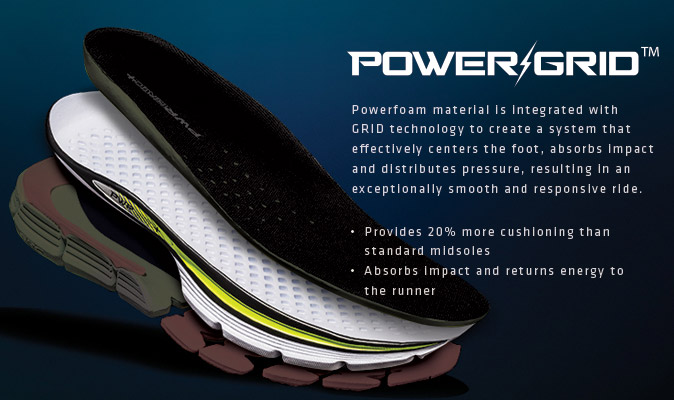 Sustainable Production
Saucony is a world-leading footwear provider and an initiator in sustainable production.
For example, it chooses leather from mushrooms as a natural alternative to animal leather in the Shadow 5000, 3D G.R.I.D. Hurricane and Shadow 6000.
The Jazz Court RFG, the most sustainable sneaker of Saucony, has 0% of plastic.
It is made of renewable materials like jute, cotton, rubber, wool, gardenia, wood, and beet. It uses tye dyed colors from mulberry leaves and gallnut to create the shoes' dark grey and green color.
FAQs
1. Where Are Saucony Running Shoes Made?
Saucony running shoes were made in the U.S. from 1898 until the 1990s. From the 1990s till now, the company has outsourced most of its running shoes to various Asian countries, such as Vietnam, China, and Indonesia.
2. Where Are Saucony Sneakers Made?
The first Saucony sneakers were first made in America.
However, after 1994, Wolverine World Wide (the owner of Saucony) transferred the footwear production of Saucony to third-party vendors in Asia and South America.
Now, you can find shoes made in those countries, especially China, Vietnam, and Indonesia.
3. Where Are Saucony Tennis Shoes Made?
The manufacturing location of Saucony tennis shoes depends on their release year. Shoes released from 1898 to 1994 were made in the U.S. Those released from 1994 till now are primarily made in an Asian or South American country. Some Saucony tennis shoes made in the U.S. are mainly distributed to the American market.
Final Words
Saucony shoes are manufactured globally, with an intense concentration in Asian and South American countries. In the meantime, it still maintains a small number of shoes in the United States.
While a pair of Saucony shoes can last 300 to 500 miles, you should check its conditions regularly to ensure your footwear is eligible for safe, comfortable, and effective runs.