Born has carved a niche in the footwear industry with a stellar range of flexible, comfortable, and functional shoes, sandals, and boots. The brand has also cultivated a sustainable customer base over time.
But, where are Born shoes made?
This article will delve into the origins of Born shoes and information related to their quality.
Where Are Born Shoes Made?
Born shoes are produced across factories in China, Vietnam, and Mexico. You can check its origin on the packaging or the shoe's inner upper part.
Born outsourced its shoemaking to regions with superior production skills and affordable labor costs. By doing this, Born can stay balanced between making profits and maintaining its signature comfort and craftsmanship.
Vietnam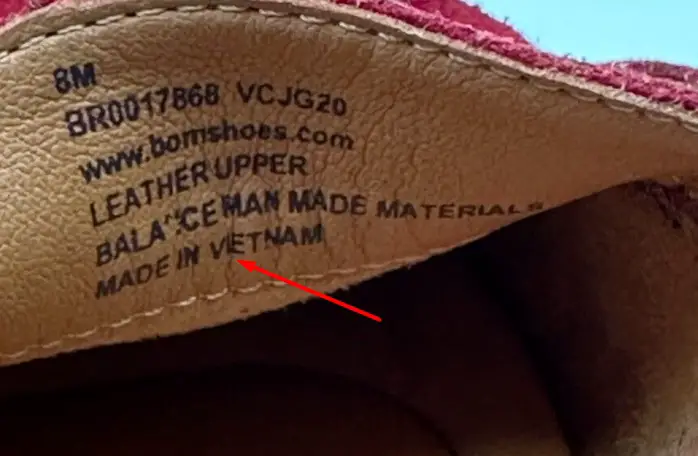 Vietnam is becoming the leading destination for most of Born shoes. Yet, there needs to be more precise information about when Born began manufacturing operations in Vietnam.
Vietnam is a prominent hub for fashion and footwear production. It hosts shoemaking for numerous globally renowned brands, like Adidas, Nike, Reebok, and more.
Born isn't an exception. It has set its shoe production in Vietnam to maximize its profit margins while maintaining its global standards on all its sneakers.
Check more: Where Are Taos Shoes Made?
China
Born shoe production has been in China for many years. Similar to Vietnam, there is no information regarding when Born initiated its production in China.
After the COVID-19 pandemic and the US-China tariff war, the production trend of Born has gradually shifted from China to Vietnam.
This production trend was because Born wanted to lower its dependence on a nation.
China is the global manufacturing hub for many U.S. footwear companies, including Born. The country is recognized for its skillful footwear workforce, the high availability of raw materials, and low production costs.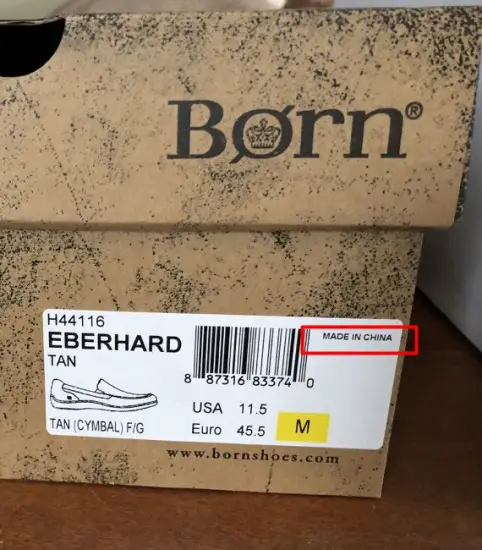 Mexico
Born has also extended its manufacturing reach to the neighboring nation, Mexico. Mexico facilitates swift delivery to North American customers and distribution hubs from its strategic location along the U.S. border.
Who Owns Born Footwear Now?
H. Brown is the current owner of Born Footwear. It's a business entity with an impressive history of over 130 years.
More About Born Shoes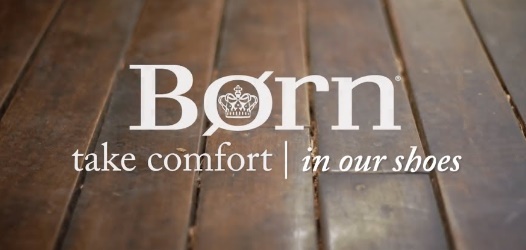 The history of Born Footwear remains a myth, with no exact founding date.
It is now headquartered in Manchester, New Hampshire, the U.S. Its parent company, H.H.Brown, has been in this business for over 130 years.
Three core principles defining Born Shoes include comfort, style, and craftsmanship. It ardently infuses these qualities into every pair of Born shoes.
Its commitment to excellence is unwavering, which ensures its customers receive nothing short of the best with every stride.
Born Shoes are available in various styles for men and women.
How Born Shoes Are Made?
Every Born shoe is made with high craftsmanship and premium materials to fulfill the comfort of its customers.
Leather is the heart of every Born shoe. Born selects the finest leathers and suedes from tanneries worldwide for its shoe's uppers.
This diligent material selection results in shoes that are soft like your second skin yet durable with time.
Since leather is sensitive to moisture, there should be a high-tech fabric sock to maintain dryness and eliminate bacteria within the shoe.
Beyond leather and suede, Born also uses specialty fabrics like natural linen and plush velvet, providing a unique and appealing finish for the shoes.
To fulfill your comfort, Born also applies the latest innovations with traditional techniques from the early generations.
First, Born combines dual-density foam cushions and an arch cushion,  offering ergonomic support while maintaining maximum flexibility.
A distinctive air diffusion layer is added to reduce the puffing noise when walking.
Second, Born is also the first and only footwear brand that uses Opanka – a  traditional hand-stitching technique. This technique introduces flexibility, allowing the shoe to move naturally with the foot.
The stitching-based construction also enables the shoe to conform to the foot and rebound with every step, offering "ultra cushioning" and enhancing overall comfort.
FAQs
1. Where Are Born Boots Made?
All Born shoes, including boots, are handcrafted by skilled artisans in  China, Vietnam, and Mexico factories.
2. What Is The Difference Between Born And BOC Shoes?
BOC shoes are more fashionable, with more distinctive, trendy styles than Born shoes. BOC shoes aim for daily comfort, while Born ones specialize in craftsmanship.
Since BOC is a subdivision of Born, these two footwear brands commit to delivering the same high-level quality on all their shoes.
Final Words
Born shoes are manufactured in three world powerhouses – Vietnam, China, and Mexico. Despite the shoe's origin, this American firm promises to maintain its unparalleled comfort and quality.
Whether experiencing life's grand moments or celebrating everyday victories, Born is there every step of the way, making each day a little more comfortable.