Browsing websites like GOAT might lead you to wonder: What does EP mean in shoes? The word appears here and there, yet not all the time.
Are these shoes any different from others? What can it do for you? Is it worth investing in?
We will get all the answers with this quick read!
What Does EP Mean In Shoes?
For sneakers in general, the EP tag means "Engineered Performance". EP shoes typically have more cushioning due to more durable materials and specialized designs.
Aside from quality, EP shoes also come with unique colorways and attractive designs that serve players who want to look stylish as well as play rigorously.
It might not be easy to tell what an EP shoe is at fight sight if the brand doesn't have a tag indicating it.
But you can keep an eye out for the details below:
The word EP is in the description or the name, especially when it comes from renowned brands.
EP shoes often have signature features such as dense materials, extra cushioning, thick soles, and more.
Some brands have exclusive terms to mark their upgraded products. Under Armour has HOVR cushioning technology and Adidas has the BOOST product line.
Check more: What Does GS Mean In Shoes?
EP vs PE vs PF shoes
All of these terms refer to shoes that are made to optimize and enhance features so the wearer gets the best experience out of them.
However, they have very distinctive purposes:
EP: It focuses on the outsole, as we have explained. When the outsole is enhanced, the shoe can withstand all sorts of outdoor conditions.
PE (Player Exclusive): Professional athletes tend to have their footwear made to fit and meet their requirements. Such exclusive features are usually not available for commoners.
PF (Performance Fitting): Its ultimate goal is to be the best fit for a certain purpose. Hence, it is extremely important in footwear for sports.
Benefits Of EP Shoes
Durability
The endurance of EP shoes comes from the dense rubber incorporated with them.
It can be both solid and translucent rubbers because the essential factors are the density and the thickness of the rubber, which withstand abrasion extremely well.
For some people, 'end piece' might also be what EP means in sneakers. It is a fabric strip stretching from the toe to the heel – a reinforcement for the shoe's longevity.
Traction
Athletes for indoor sports tend to have a lot of prominent patterns on the outsoles so their traction will be optimized.
However, these shoes often wear out very rapidly if you wear them outdoors, for they weren't made to endure rough terrains.
EP shoes change this flaw by recessing said patterns more deeply into the outsoles. It allows the outsoles to survive longer even if you use them on unfavorable surfaces.
Sometimes, it doesn't have to be this way.
The Air Jordan 9 has its own route with flat patterns. They can resist dust and debris, thus unexpected surfaces won't be a problem for them.
The dirt won't get trapped between the creaks and lines either.
Cushion
When you are buying shoes for practice and competition, a cushion is mandatory.
In most cases, your ankles and feet will suffer so much from the rough surfaces. Thus, providing the knees with more cushion is a clever solution.
Professionals have the option to customize their shoes, hence we can imagine the effect will be amplified. I don't think any of us would want to forgo such a great deal.
Comfort
EP stands for more than one thing in shoes.
Firstly, as we have mentioned, "engineered performance". With special technologies to improve comfort and overall performance, these shoes are full of advancements so the users can participate in a lot of activities and have good experiences.
Otherwise, you can also understand it as part of EPDM – ethylene propylene diene monomer, a synthesized rubber often present in the shoe industry. Durable and lightweight, it is a suitable material for midsoles and outsoles.
Which Brand Makes EP Shoes?
Now if you are looking forward to improving your performance, EP shoes are such excellent choices.
Quite a few brands design and manufacture these shoes, and here are some of our favorites.
Nike Kyrie Infinity EP Shoes
In this model, you will find a customized fit that everyone loves to own. Furthermore, the front offers responsiveness and the side provides extra traction. You can easily speed up and slow down without exertion.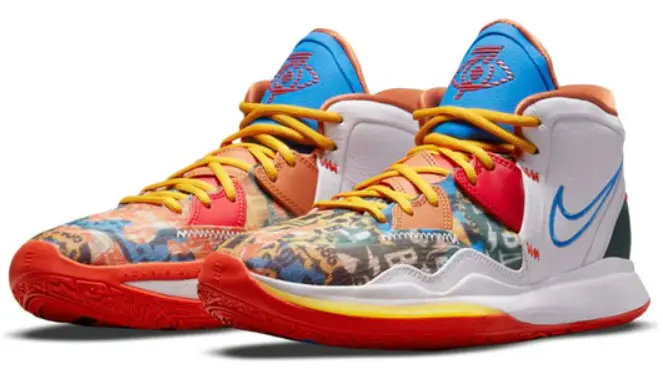 Nike Basketball KD 15 EP
Nike has proved itself as a powerhouse with EP shoes. KD 15 EP consists of padding and cushioning for our feet's heel and arch. With the knitted upper, it is more durable than ever.
Under Armour HOVR Havoc EP
It is very well-known for traction and agility. The cushioning from the HOVR technology is also on another level.
Adidas Dame 6 EP
When it comes to sturdy construction and responsiveness, the giant from Adidas is much appreciated.
We highly recommend storing your shoes in the authentic box when you are not using them.
Even if they come from a high-end name, their products won't stay in prime condition if you leave them out in the opening.
FAQs
1. Are EP Shoes Wider Than Normal Shoes?
EP shoes don't have to be wider than regular footwear. The width depends on the mold. Users usually can ask to have the mold shaped and sized to their preference.
Sometimes, you might find EP shoes that are wider than what you normally see on the market, though the width is still not a prominent signal of EP shoes.
2. Who Needs To Wear EP Shoes?
EP shoes are not a must-have for you if you don't go for daily practices and competitive gameplays.
These products always come with traction, durability, and support – everything that you need to avoid injuries and upgrade performances but not necessarily part of your casual errands.
3. Is EP Footwear Expensive?
They cost more than regular shoes due to enhanced features, high-quality materials, and cutting-edge technologies.
Their designs are also usually more robust. Hence, they are very suitable for outdoor activities and intense sports.
Sometimes, the difference between non-EP and EP shoes can be more than noticeable. So, considering the benefits is necessary. You might not need those advantages if you don't practice professional sports.
They are expensive if you decide to purchase them, though you don't have to buy them as soon as they are released. People might resell them at a more reasonable price and the same quality.
4. Are EP Shoes Good For Indoors?
Most EP shoes are good for indoor sports, like how basketball shoes are meant for the court.
From the weight to the traction, they are made to deal with indoor environments. Hence, they won't be doing well outdoors.
Final Words
To summarize what EP means in sneakers, we can use a few keywords: "Engineered Performance", "End Piece", or "EPDM".
They indicate different aspects of footwear, though they all point to how the shoes are tremendously enhanced for extra comfort, support, durability, and sometimes style.
They are costlier than common products, though for a good reason. However, we recommend EP shoes only if you are training professionally or intensely!