Vans Ward vs Old Skool – which are the best skating shoes? They seem to be identical at first sight, but is that all? We will be delivering a handful of information to you, so you won't ever be confused between these famous shoe styles.
Vans Old Skool & Vans Ward Are Not The Same
Before we discuss Vans Ward vs Old Skool quality, let's make it very clear that both of them are under the Vans brand. The founder of Vans is Paul Van Doren, and he started establishing Vans in America, in 1966. If anything, they are only two different styles, two separate lines of products.
Vans Old Skool
Living up to the name "old school", it is considered an iconic line of Sneakers from Vans. Since 1977, Old Skool has been thriving for 45 years. It opens up a new path for Vans skate shoes with the leather panels that give you both durability and dimension.
Vans Ward
Also coming from Vans, the Ward sneakers are undoubtedly inspired by the legendary senior. It is vulcanized and cushioned to provide as much comfort as possible. Many Vans fans address Vans Ward as low-profile shoes.
Although Old Skool is 40 years older than Ward, the similarities they share tend to be confusing for people who don't know much about Vans or fashion brands in general.
Check more: Where Are Vans Shoes Made?
Vans Ward vs Old Skool: Key Differences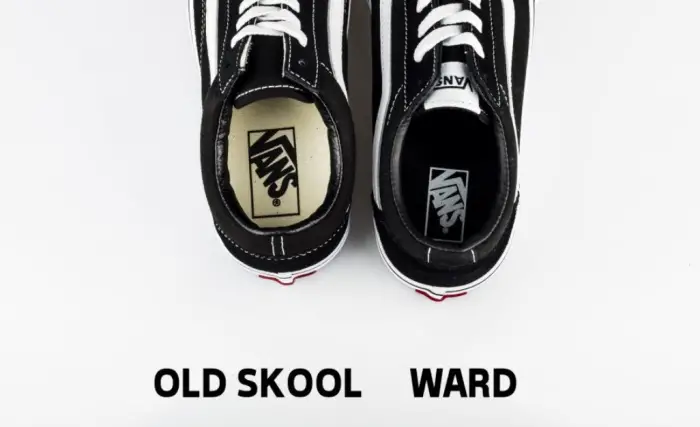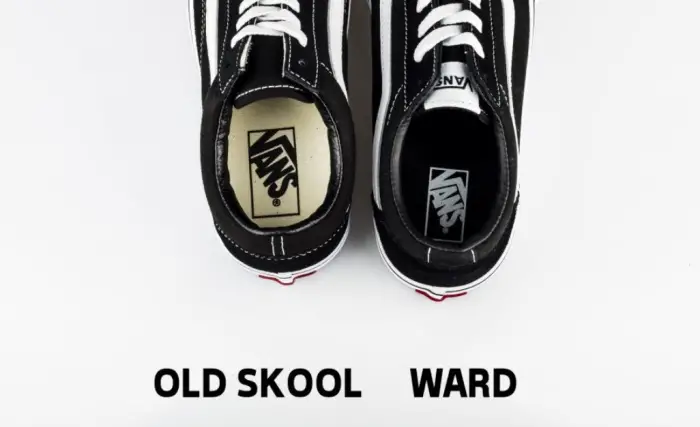 The easiest and quickest way for you to tell between them is to look at the signature jazz stripes. Old Skool shoes have an aesthetic line of stitches under the stripe, while Van Wards don't feature such.
Besides the noticeable difference, the two brands have several distinctive details in their designs.
| | | |
| --- | --- | --- |
| | Vans Ward | Old Skool |
| Signature jazz stripes | No | An aesthetic line of stitches under the stripe |
| Tongue | Name printed on it | Blank |
| Stitches on the heel | Farther apart | Closer |
| Ankle | A bit stiff and scratchy at first | Thick cushion |
| Outsole | Deeper shade | Tender brown sole |
| Insole | Black | Off-white |
| Comfort | Stiff at first | Good comfort |
| Price | Lower | Higher |
| Availability | General stores | Vans stores |
Tongue
Very visible to the eyes, your eyes can immediately catch a glimpse of the shoe's tongue. Vans Old Skool leaves this part blank for a minimalistic look, while Vans Ward turns it into a label with their name printed on the small patch.
Seam
These two names have their distinctive arrangement for the seams if you observe the details. Furthermore, the stitches on the heel are farther apart on the Wards compared to the Old Skools.
Ankle
If you have the chance to touch or try both shoes, you will feel the thick cushion on the ankle part of the Old Skool. Meanwhile, Vans Ward might be a bit stiff and scratchy at first.
Outsole
The difference between their sole designs is easy and difficult to notice at the same time. If you only pay attention to the style and the thickness, you will find them identical. However, the difference lies in the color: Old Skool with a tender brown sole and Vans Ward sporting a deeper shade.
Insole
At first sight, you will see them showcasing the brand name on their inner soles. Again, the styles are exactly the same, but Vans Ward uses black insoles while Old Skool keeps it off-white.
Comfort
In the Vans Ward vs Old Skool comfort battle, Old Skool is a little bit ahead after getting out of the box. But in a span of two weeks at most, Ward will be on par with it.
Availability
If you only visit Vans stores or shops associated with Vans, you will see Old Skool shoes rather than Vans Ward. Nonetheless, it's safe to say Vans Wards are more readily available for purchase, for you can find them in general stores.
Who Should Buy The Vans Ward?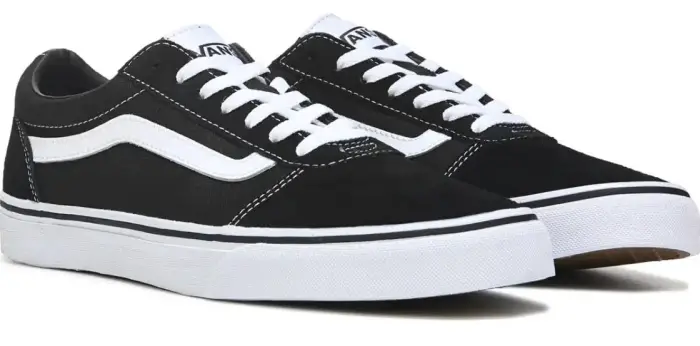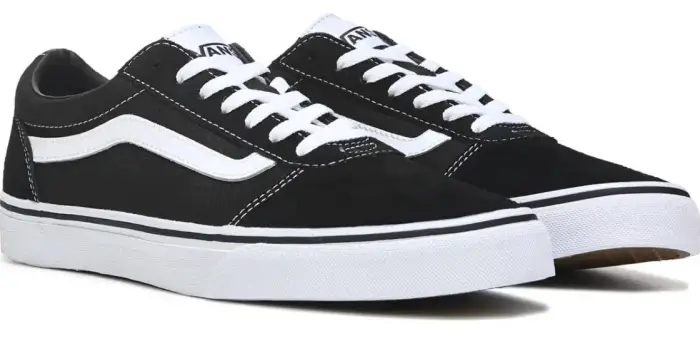 If you check all the boxes below, chances are you will find a suitable choice among the Vans Ward shoes:
You are on a budget or simply looking for a pair of shoes that is not too expensive. Besides, Vans Ward is made to be with you for a very long time, they are likely to be good as new even after months in use.
The shoes are expected to handle many activities and withstand constant use. Customers confirmed that their Vans Ward pairs are great whether they want to skateboard playfully or just go to school.
You are in search of a fashionable and simple design. Vans Ward footwear is considered the best attraction in the sneaker section every time a new season starts.
You want comfort all day long.
Maintenance must be an easy task for you. Vans Ward shoes don't get dirty easily in the first place, according to buyers.
Vans Ward shoes have their downsides that you should be aware of:
The shoes feel stiff and narrow at first, hence they might need time for a break-in.
While users with average feet size have no complaint about how the shoes embrace their feet, people with wider sizes can't say the same. If you fall into this category, it's better to visit their store and try the shoes on.
Who Should Buy The Vans Old Skool?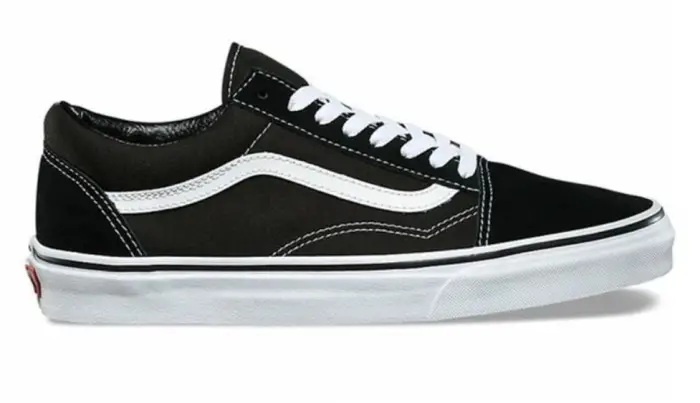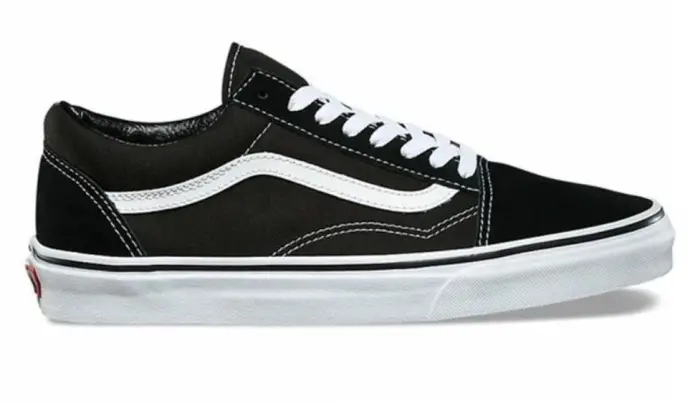 Vans Old Skool receives positive feedback, but are they living up to the compliments? Here are the good things you can expect from them!
You can wear your Old Skool Vans in most situations, from formal events to gym practices. As long as the occasion is not too special, you will be alright.
Old Skool is available in many colors and styles, always ready for the fashionistas.
It is very affordable compared to other high-end names even with the variety of options offered to you.
The materials and the cushioning allow these shoes to keep you company during workouts and last for a long time.
Nothing is perfect, and neither is Old Skools. If you are considering a purchase, you should make sure these drawbacks are still acceptable to you:
Old Skool shoes are not extremely comfortable and warm due to the thin materials. With that said, the inner side of the shoes might feel scratchy against your feet at first.
You need to find a Vans store for these Old Skool shoes.
You can use Old Skools for gym sessions, but not for running. The midsoles and the weight of the shoes are not ideal for active jogging and running.
So, Which To Choose?
You know Vans Ward and Old Skool differences as well as their pros and cons, and they indeed have solid reasons to be so popular and reliable for their buyers, especially the youths.
If you want a modern attraction with minimalistic details, your best bet is Vans Ward. As Old Skool leans more towards the classic but classy look, it is compatible with a special place in your closet.