If you are looking for children's footwear, Stride Rite will appear in many suggestions. So, you might want to equip yourself with this Stride Rite shoe size chart and size guide.
While it looks like we don't need to stress ourselves over a pair of tiny shoes, getting the right footwear is essential for your little one to grow well and feel the eagerness to explore the world around them!
Stride Rite Overview
Established in 1919, it was unbelievable and impressive how the brand has been around for so long and remained focused on children's footwear.
It was not until 1972 did Stride Rite opened its first retail store and purchased several brand names to expand its influence.
For Stride Rite, baby shoes are and will always be the core of their business. They are well-known and well-received for the materials used in every pair.
All are made with an awareness of how sensitive the little feet and skins are, the various models and colors that are too tempting to resist, and the ample support with correct alignment for the babies to grow healthily.
Stride Rite Shoe Size Chart (Inches, Cm)
Stride Rite Big Kid Shoe Size Chart
| | | |
| --- | --- | --- |
| Big Kid – US Size | Inches | Centimeters |
| 4 | 8.9 | 22.6 |
| 4.5 | 9.1 | 23.1 |
| 5 | 9.25 | 23.5 |
| 5.5 | 9.34 | 23.9 |
| 6 | 9.63 | 24.3 |
| 6.5 | 9.75 | 24.8 |
| 7 | 9.9 | 25.2 |
Stride Rite Little Kid Shoe Size Chart
| | | |
| --- | --- | --- |
| Little Kid – US Size | Inches | Centimeters |
| 11 | 6.9 | 17.5 |
| 11.5 | 7.1 | 18 |
| 12 | 7.25 | 18.4 |
| 12.5 | 7.34 | 18.8 |
| 13 | 7.63 | 19.2 |
| 13.5 | 7.75 | 19.7 |
| 1 | 7.9 | 20.1 |
| 1.5 | 8.1 | 20.5 |
| 2 | 8.25 | 20.9 |
| 2.5 | 8.34 | 21.3 |
| 3 | 8.63 | 21.8 |
| 3.5 | 8.75 | 22.2 |
Stride Rite Toddler Shoe Size Chart
| | | |
| --- | --- | --- |
| Toddler – US Size | Inches | Centimeters |
| 5T | 4.9 | 12.4 |
| 5.5T | 5.1 | 12.9 |
| 6T | 5.25 | 13.3 |
| 6.5T | 5.34 | 13.7 |
| 7T | 5.63 | 14.1 |
| 7.5T | 5.75 | 14.6 |
| 8T | 5.9 | 15 |
| 8.5T | 6.1 | 15.4 |
| 9T | 6.25 | 15.8 |
| 9.5T | 6.34 | 16.3 |
| 10T | 6.63 | 16.7 |
| 10.5T | 6.75 | 17.1 |
Stride Rite Infant Shoe Size Chart
| | | |
| --- | --- | --- |
| Infant – US Size | Inches | Centimeters |
| 3T | 4.25 | 10.7 |
| 3.5T | 4.34 | 11.2 |
| 4T | 4.63 | 11.6 |
| 4.5T | 4.75 | 12 |
Do Stride Rite Shoes Run Big, Small, Or True To Size?
Stride Rite pays close attention to the fit and makes sure the little customers feel encouraged to be active and explore. They are extremely dedicated to offering various sizes and widths for each design released.
Their shoes run true to size, though the growth rate of children's feet might make it look like they run small and need replacements too early on.
Check more: Zappos Shoe Size Chart
How To Find Foot Size For Children?
Measure Children's Feet
We need to get the measurements every few months when it comes to children's footwear, for they quickly grow out of their old sizes.
Fortunately, the process is very simple.
Ask the baby to stand on a piece of paper with their favorite socks on.
Use a pen to trace their feet one by one and keep it straight for the most precise outline possible.
The length is determined by the distance between the longest toe and the heel. The width is the widest part of the foot, typically across the foot's ball.
Measure the length and the width with a ruler, preferably in centimeters.
Refer to the Stride Rite shoes' size chart and choose the suitable shoes.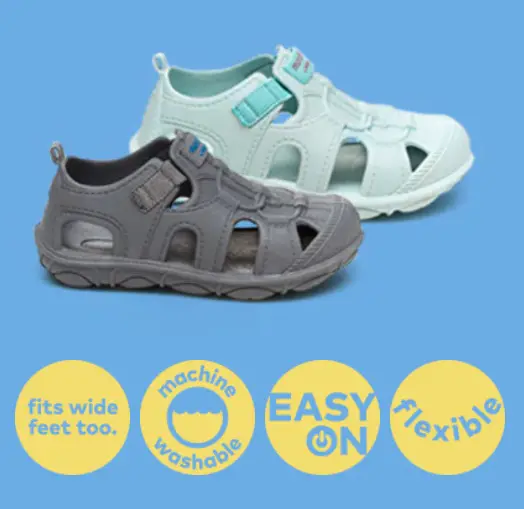 Check The Shoes Fit
How to check the fit when your baby tries the shoes on:
Check the widest part of the foot if it fits snugly without sacrificing comfort.
Run a finger across the top of the shoe and make sure the fabrics ripple a little bit. If it feels too tense, it means the depth might not be enough yet.
But if it forms various folds too easily, the shoe is likely to be too deep.
Press lightly on the front of the shoe. There should be a small gap so the little toes can wiggle without restriction.
All you need is a soft embrace for your child's feet with no discomfort. In the first five years, their feet won't develop properly without touching the ground.
Only a padded collar should touch and rub against their ankles, or the bones will feel very uncomfortable and even pained.
They need a nice heel cup that doesn't dig into their skin or slip out of position. You can try to move the heel up and down to check if the fit is good enough.
Adjustable closure systems are better than slip-ons because children's feet change rapidly. And, being able to customize the fit will give you more convenience.
Some Sizing Tips For Babies' Footwear
Be warned that kids' footwear can be extremely confusing. While clothing for kids is related to their age, their shoes are categorized by months.
Furthermore, the growth rate of babies might vary greatly.
After the infant and toddler eras, the child will start using kids' sizes, which are indicated by numbers and not the month's age anymore.
From 3.5 to 10, you have shoes for little kids. Big kids use 10.5 – 13.5 sizes. Afterward, they will be ready for adult-size charts.
Check more: Peloton Shoe Size Chart
What To Notice
Babies' feet are flexible, soft, and inevitably vulnerable. If the shoes fail to fit, your child will have to suffer irritation, blisters, and bruises.
In the long run, it might result in deformation, inflammation, vein issues, pain, and more problems for the poor darling.
Avoid measuring the little feet in the morning. Babies are active and feet are going to be swollen after being active.
No test is better than directly walking or running with the new shoes on. Ask your baby to engage in some activities and observe them for any signs of discomfort.
Signs That The Shoes Are Too Small
The details of the shoes press harshly against the sensitive skin and cause blisters.
You hit a toe when trying to press your fingers down on the front of the footwear. It means the gap between the shoe and your toes is too small for comfort.
The baby seems less active because the narrow shoes make them hesitant to get dressed and go out to play.
Big kids have better awareness of their bodies and directly express the pain the shoes cause to them.
Signs That The Shoes Are Too Big
The heels keep slipping off when they move.
The posture is off.
They have to drag their feet instead of walking normally.
The baby trips and gets their ankles twisted continuously.
Blisters still happen with big shoes since they have to constantly fix the loose fit.
FAQs
1. Why Should I Choose Stride Rite For My Children?
They commit to providing the best fits, durability, and amazing performance through various sizes and models of shoes.
On top of that, the price range of their products is on the affordable side, making them more accessible to more customers.
2. What Is Stride Rite's Return Policy?
You can return and exchange your Stride Rite purchase under a few conditions:
The request for returns and exchanges must be sent within the first 45 days after the date of your purchase. The products must be unworn and undamaged.
The delivery and processing time might take 2 – 3 weeks before you receive the refund through your original payment method or receive a new product in exchange.
No shipping fees are eligible.
Final Sale products won't be accepted.
3. How Often Should I Measure My Kids' Feet?
Babies grow very quickly and their sizes change rapidly. They might even need to go up half a size after every third of a year, or faster. Therefore, we recommend measuring your kid's feet every two months.
4. What To Do If My Kid Is Between Sizes?
When the measurement is between sizes or one foot is bigger than the other, you need to go up half a size.
The socks will make your kid fit in the shoes more easily and fix the slightly loose fit, unlike the case with smaller shoes, which can cramp the feet and hurt the baby.
Final Words
We hope this Stride Rite shoe size chart and guide will come in handy whenever you want to buy new footwear for your babies.
The shoes here run true to size, hence you are sure to get what you want if you measure the child's feet accurately.
However, don't forget to take the measurements again after a couple of months, the changes will surprise you!