First appeared in 1991 by Tinker Hatfield, an ex-athlete and a featured shoe designer of Nike, Nike Huaraches has a timeless, lasting appeal that many shoes don't.
But, are Huaraches running shoes? Is it comfortable enough for walking or running outdoors?
Let's learn about the Nike Huaraches, including its history, some notable highlights on it, along with some interesting facts about this Nike sneaker.
Are Huaraches Running Shoes?
Nike Huaraches are not running shoes for two reasons. 
First, they don't have a real heel counter, so they can't provide enough support and stability for your ankle and your heel.
Second, their midsole and outsole are not designed for running purposes. Thus, these parts can be easily worn out, even if you used the sneakers to run on the treadmill.
So, what type of shoes are Huaraches?
Nike marks the shoe type on the shoe box, with 'RN' for running, 'TR' for training, and 'SW' for sportswear. On the box of Nike Huaraches, there is an 'SW' mark, meaning that Huaraches are general sportswear shoes.
Thus, you can wear Nike Huaraches for casual sports outfits or for (some) short runs. These sneakers can also be used as basketball shoes for beginners. These shoes are also good for the gym.
Nike Huaraches Shoe Review
Specs
Weight: 6.5oz (184gr)
Type: low-top
Technology used: Zoom Air, Neoprene
Colorways: 13+
Fit: small fit (0.5 sizes up)
Retail price: $120
The Nike Air Huarache (or Nike Huarache) is a fascinating shoe for casual sportswear, people with flat feet, high arches, or overpronation. It offers a wide range of colors with a retro-futuristic design. If you have a Nike ID, you can get yourself a customized version of Air Huarache.
Since Nike Huarache is an 'Air' sneaker, it has a hidden Air unit in the EVA midsole. This Air unit consists of pressured airbags to maintain your natural gait, reduce the impact on your joints, and keep the shoe snug-fit without adding extra weight on the shoe.
Moreover, Huarache sneakers have good arch support. They are not running shoes but there is a lot of cushioning at the heel area. This extra cushioning not only raises your height upward but also pushes you forward.
Last but not least, there are non-slip flex grooves on the outsole of this shoe, allowing maximum traction and flexibility for you.
However, this Nike sneaker also has some disadvantages.
First, the neoprene doesn't provide enough structural support like the Nike Air Force 1. Even though you use the leather upper and a traditional lacing system, you can feel slight slippage at the heel while walking.
Second, the toebox is too narrow and can cause discomfort unless you run 0.5 sizes up.
Check more: Are Ultraboosts Good For Running?
Some customer feedback on the Nike Huaraches
"These are pretty well-rounded sneakers. They look good, are nice and supportive around the ankle, and have arch support. I haven't taken them on a run yet, but I'm guessing that they'd do well due to their lightweight …" (Susie V)
"The Nike Huarache's that I purchased were a perfect fit for my 3 yo daughter. The quality is very good. When she first put them on, I thought they would have been too small because they seemed narrow or too tight, but they weren't at all.
After a few times of her wearing them, they were easy to put on.
They also don't get dirty easily and my daughter can destroy shoes after .5 seconds of wearing them. This was definitely a great buy! Don't think twice about buying them, just do it!" (Aundrea Michelle)
"The first time I bought this product I didn't read the customer's reviews and got my regular size. They were extremely small, I couldn't stand straight!
However, I loved the color, shape, and how they looked with casual clothes. I went for a new pair, this time half size bigger. Again, they were still very small, narrow, and tight.
Now I'm waiting for the last pair, I ordered a full 9. I hope I don't look like Ronald McDonald!!!" (Julieta)
"Bought these in my size. UK 4 US 6. The toe box is very short and small. I have very small narrow feet and even these feel like they are a size too small.
I would recommend half or full sizing up. They have held up fairly well but are definitely uncomfortable due to the short toe box." (Lily)
7 Interesting Facts About Nike Huaraches
1. They Were First Released In 1991
Nike Huaraches were first debuted in 1991 by Tinker Hatfield, a famous designer of Nike since 1981. The shoe was designed as a Native American sandal, instead of following any basketball or running shoe model.
From the test run at NYC Marathon in the early 1990s, these sneakers became popular among sneakerheads and sportswear addicts worldwide.
It is also among the timeless collections of Nike for its excellent designs, comfort, and durability.
These sneakers were promoted by many well-known athletes, including Kobe Bryant, Jerry Steinfeld, and Michael Johnson.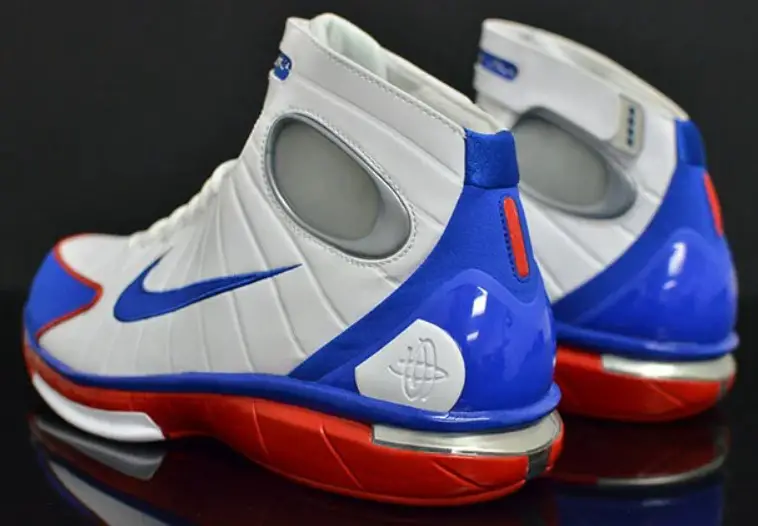 2. 12 Versions Of Nike Huarache Up Till Now
From the first Nike Air Huarache in 1991, the Huarache sneakers are continuously updated to be lighter and fit more snugly with new fashionable colorways.
Up till now, there have been 12 versions of them, including:
Nike Air Huarache (1991)
Nike Air Flight Huarache (1992)
Nike Air Huarache International (1992)
Nike Air Trainer Huarache (1992)
Nike Air Tech Challenge Huarache (1992)
Nike Air Dynamic Flight (1992)
Nike Air Huarache Light (1993)
Nike Air Trainer Huarache '94 (1994)
Nike Air Zoom Huarache 2K4 (2004)
Nike Air Max Current Huarache (2009)
Nike Zoom Huarache TR Mid (2010)
Nike Huarache Free 2012 (2011)
3. 'Huarache' Means 'Open-Toed Sandal'
The word 'Huarache' in Nike Huarache is based on a Purépecha term "warachi", which means sandal in English.
In Mexico, this word is used to call a type of sandal with an open-toe area made from hand-woven leather straps. This sandal was popular among hippies in North America during the 1960s.
The Nike Huarache sneaker was inspired by this Mexican sandal. Some people think that this appearance is stunning and retro-futuristic, while others think that it is bucky and lacks tenderness.
Whatsoever, this shoe still stayed in the sportswear marketplace for a long period.
4. They Run True To Size
Huaraches run true to size with a snug fit due to the neoprene sock. If you are between sizes or you have wide feet, you should go at least 0.5 sizes up.
You can also consider getting the extra wide version of this shoe (labeled 4E), which is 1/3 inch wider than the wide version.
The foot's opening of this sneaker is stretchy but small, making it difficult to wear it. Its upper is a one-piece knit with a plastic frame at the back with little to no flex.
To get your perfect fit, you should wear the shoes and walk around until you feel comfortable with them.
5. You Can Wear Huaraches With No Socks
You don't have to wear Huaraches with socks, since the sneakers have integrated neoprene socks. However, if you need an extra protection layer for your feet, you can wear it with socks.
6. Huaraches Are Nearly Discontinued Due To The Loss Of Sale Volume
In 2015, the Nike Huarache was nearly discontinued due to the extreme loss of sales. Nike eventually shifted the budget elsewhere and paused the production of this sneaker.
Yet, this everlasting legend was back on stage with the OG Nike Air Huarache "Resin" version. This news was first announced in 2022, but the shoe will be officially released in April 2023 with a price of $125.
7. They Can Be Machine-Washed
Huarache is easy to clean by hand or in the washing machine, just like other Nike training shoes. You should use a delicate wash in 30-degree water and use a non-bio detergent.
After finishing the wash, let the shoes dry naturally.
Conclusion: Can You Run In Nike Huaraches?
In a nutshell, Nike Huaraches are not running shoes even though it looks so supportive for running and fit quite snugly with a small toebox.
Yet, they are worth it, thanks to their retro-futuristic design, high-quality build-up, and affordable price tag. You can use these shoes for short runs several times a year but don't expect any runner-centric support from them.