P448 vs Golden Goose raises many questions among people who care about shoes and sneakers. They seem to have the same distressed and casual look, and novices mistake them for one another more often than not.
So, are they really the same? Which would be better for you?
What Is The Difference Between Golden Goose And P448?
There is one thing Golden Goose has, which also contributes greatly to its fame: the hidden wedges. It is one inch thick, more than what most brands can offer.
Quality
Both P448 and Golden Goose manufacture their shoes in Italy, thus the quality is always ensured. They both use fine leather that requires little to no break-in time.
On the inside, however, P448 uses faux fur. It feels comfy for our feet, yet the fibers might be all over the place if you're not careful. Meanwhile, Golden Goose gives you reassurance with how sturdy it feels.
Comfort
We mentioned that Golden Goose shoes are sturdy, and it has a downside when we talk about comfort. P448 excels in this aspect with the thick sole and the soft tongue.
Nonetheless, personal preferences have a role here. If you love the feeling of walking on clouds, P448 falls right into your category. On the other side, Golden Goose takes the cake for people who love to feel secure with every step they make.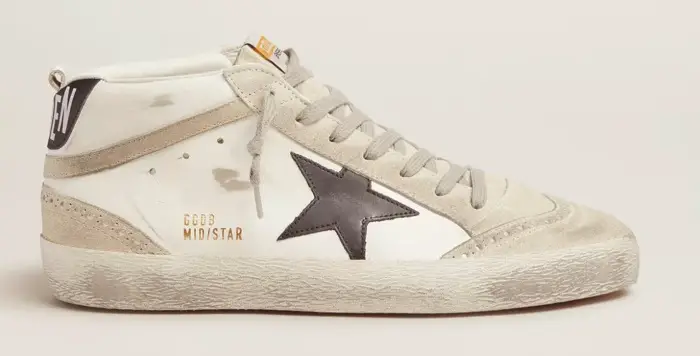 P448 vs Golden Goose sizing
P448 was reported to be smaller than the actual sizes, which means you have to add more sizes to the shoes for them to contour your feet perfectly.
On the contrary, Golden Goose might be a little loose if you order the exact size for your feet.
Generally speaking, having big shoes is less of a hassle than dealing with small shoes, though trying the shoes on directly is always the best choice.
Reputation
Although people sometimes get confused between the two brands, due to the same distressed look, P448 and Golden Goose are not the same.
Golden Goose is a very well-known brand, no one can deny it. And even if P448 is also undoubtedly good, don't be surprised if your P448 shoes got mistaken for a Golden Goose product.
Price
The biggest obstacle between Golden Goose and new customers is the price. They are over $400, while P448 offers quite a lot at half price.
Check more: 10 Best Tennis Shoe Brands In The World
P448 & Golden Goose Advantages & Disadvantages
P448 Pros and Cons
P448 shoes are more affordable, hence they are a much better choice if you are on a budget. Furthermore, they have frequent sales throughout the year.
These shoes have sufficient comfort for sneakers, and they are incredibly soft out of the box, you won't need a long break-in time for them.
Their design is not something completely new and revolutionary, yet the simplicity makes it easier for you to mix and match them with new styles.
The faux fur on the side surely gets some points deducted from them, and it gives off the impression that the product is entirely fragile.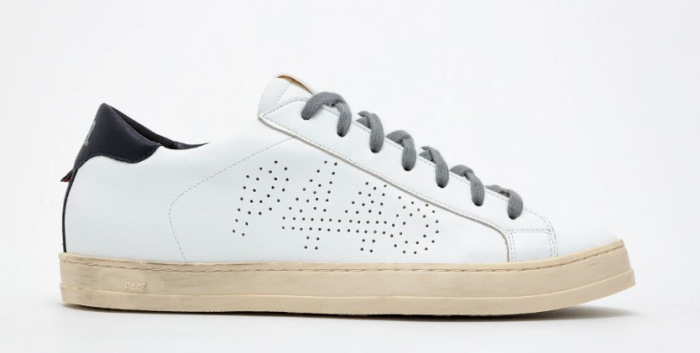 Golden Goose Pros and Cons
The shoes look less wide, which means they can give your legs more slenderness and length. The hidden wedge is also a cheat to make you seem taller.
Golden Goose shoes are sturdy but comfortable. The feelings they give you are in sync with the relaxed, seemingly casual design.
However, Golden Goose is notorious for being expensive. If money is more important to you than trendy designs, you would think twice about spending $500 for the basics of Golden Goose.
Check now: Golden Goose Size Chart
Why Is P448 Popular?
Marco Samorè and Andrea Curti founded P448 in 2014 when the sneaker market seemed too crowded for another name. In the early days, P448 relied solely on craftsmanship to retain.
Material selection, leather cutting, stitching – they execute these steps with intense focus and attention, in hope of bringing comfort and perfection to every customer who trusts them.
Even after being bought in 2019 and given a heft investment, they stay true to the first promise they have made: deliver boldness to the most daring souls through innovative sneakers.
Why Is Golden Goose Popular?
Golden Goose has been official since 2000, an Italian brand established and run by Alessandro Gallo and Francesca Rinaldo, two designers with the eyes of a connoisseur and the mind of a rebellion.
In a world full of perfectionists, the duo fearlessly incorporated interesting tearing and ripping in their products. Their shoes seem distressed, but this appearance comes with readiness. They quickly break into themselves and they look eager to serve.
They are compatible with casual and smart-casual outfits, and the nature of sneakers means you can adorn them all year round. Coupled with fashionable details, Golden Goose easily stays demanded.
P448 or Golden Goose: Which to choose?
The friendly battle of P448 sneakers vs Golden Goose must reach an end, and it's time to conclude.
They both offer high-quality sneakers with so much potential in various types of clothes. If you are financially unbothered, Golden Goose can give you everything, from a stylish look to the utmost comfort.
In the case of a lower budget, P448 would be your best buddy with a decent design and a reasonable price. P448 might also be good for experimental investment before you purchase something big like Golden Goose.